Manually From the Sense Dashboard:
Navigate to Sense Referral's Dashboard and click the "+" icon on the right corner to add a "New Referral":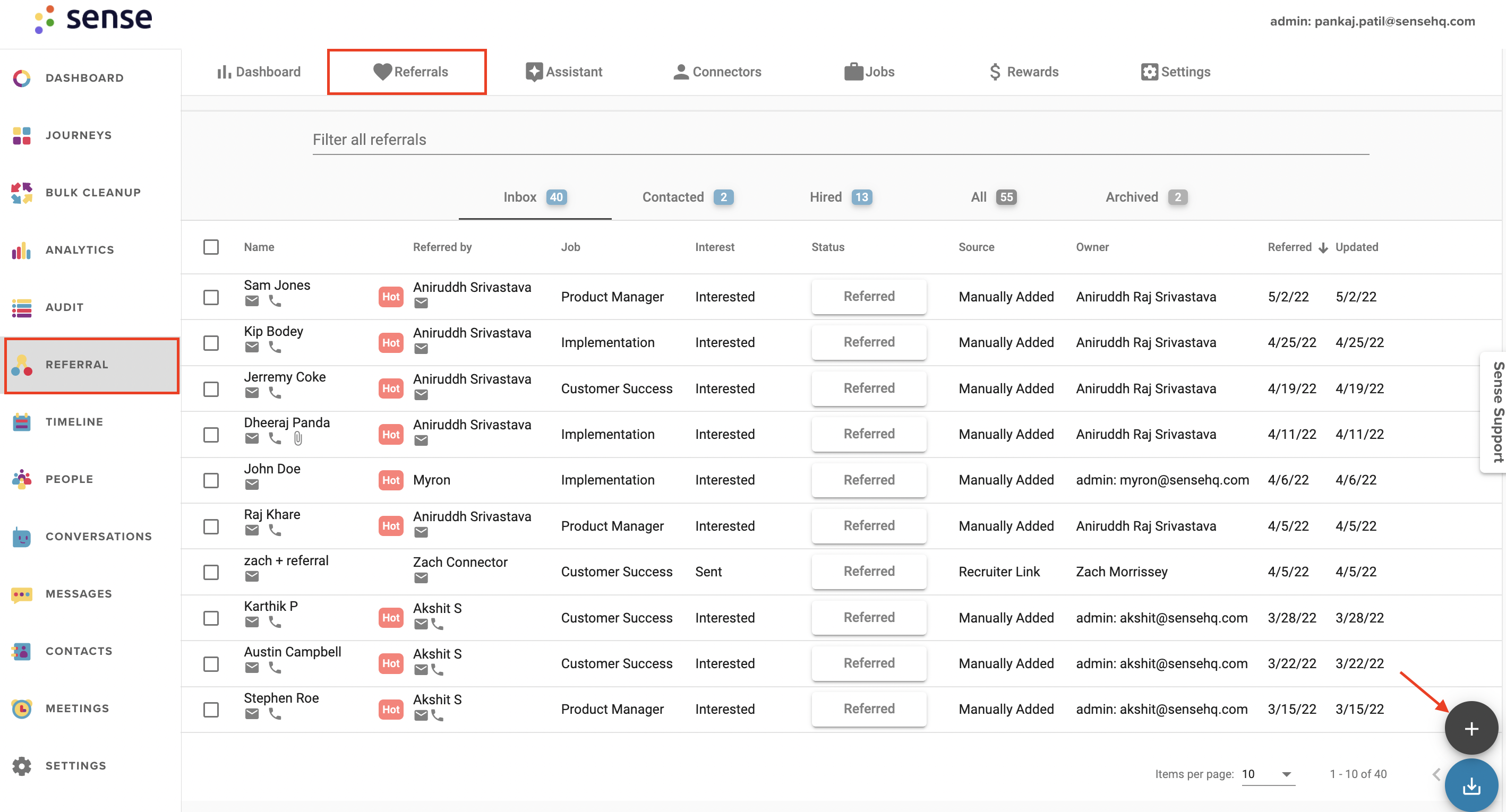 2. Fill in all the details and click "Submit".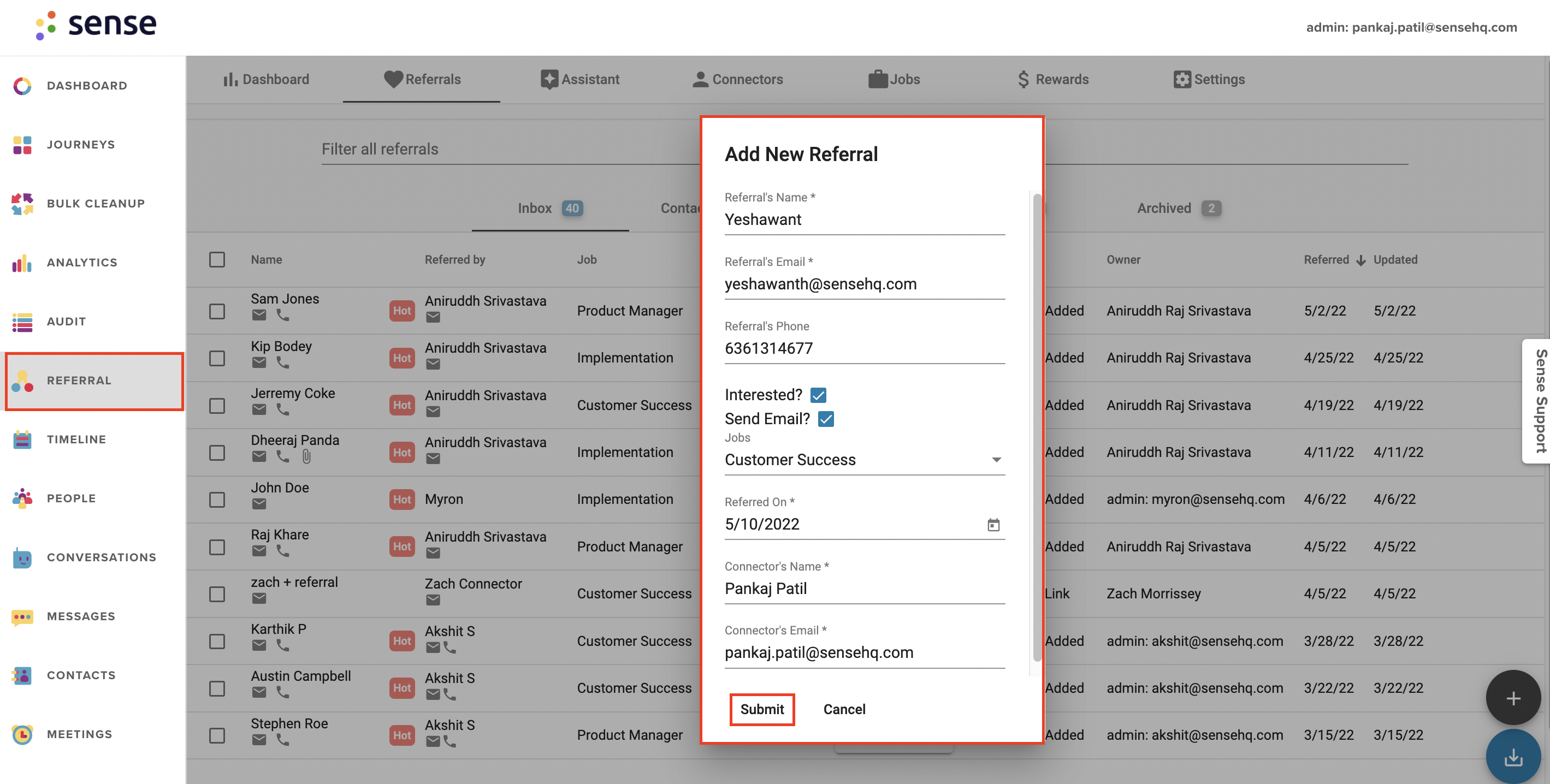 Referral's Name:

Enter the Candidate's Name.

Referral's Email: Enter the Candidate's Email address
Referral's Phone: Enter the Candidate's Phone Number.
Jobs: It shows the job or category of jobs that the candidate is being referred for. You can select single or multiple job categories.
Referred On: Enter the date (by default it shows the current date).
Connector's Name: Enter your name (Current employees within your ATS that referred this new candidate).
Connector's Email: Enter your Email address.
3. Once you click "Submit", your referral details will get saved and it will display on Referral's Dashboard.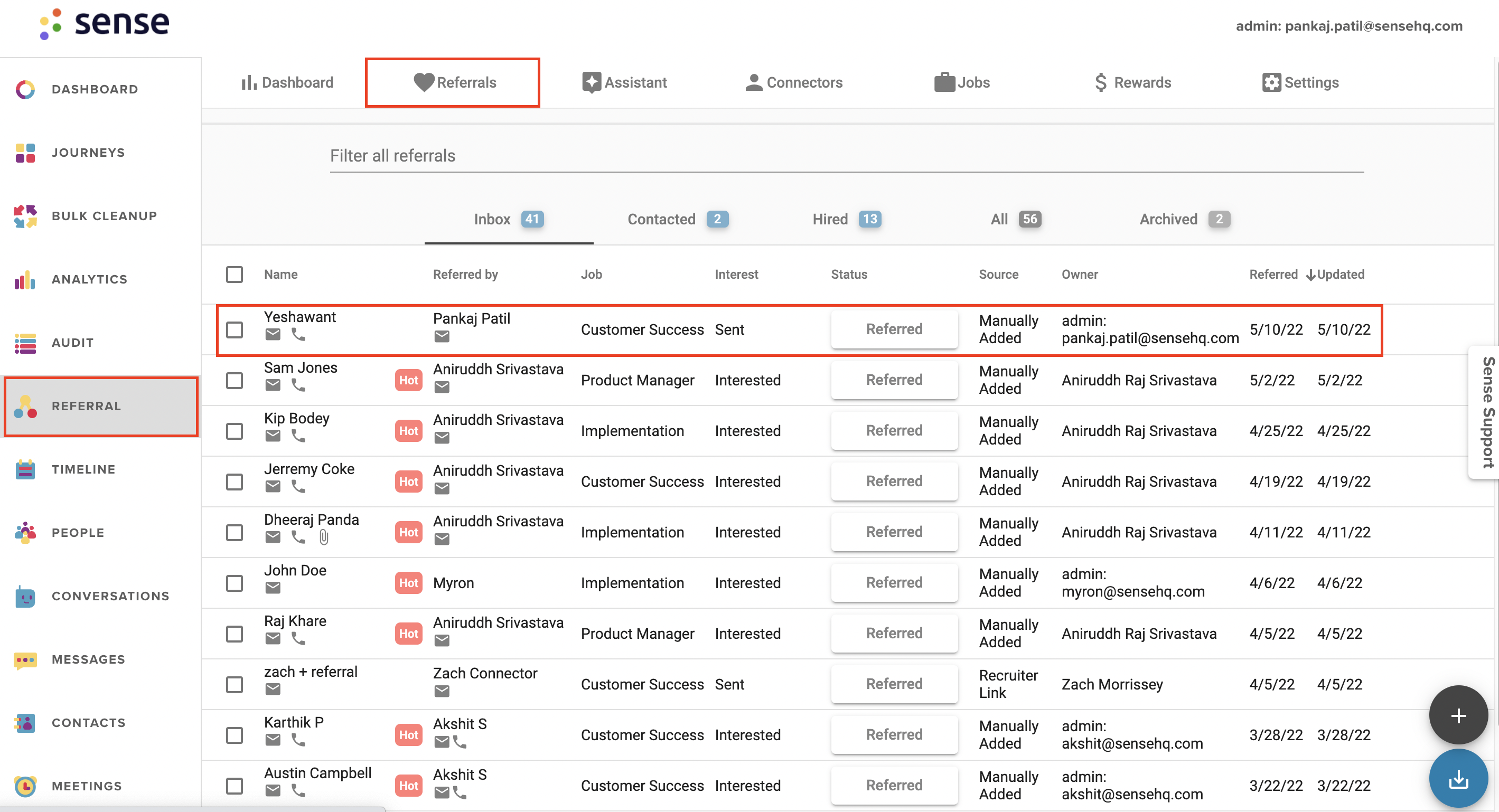 4. Once the Referral has been made, next there will be a series of emails (or text communications) sent out to the various parties involved:
A thank you email to the person who referred a friend

A welcome and notification email or text to the individual who got referred and instructions for them to indicate interest in the opportunity and apply to a job

A notification email to the recruiter (owner) of the candidate records in the ATS providing information on the next steps with the referred individual
Automated from an Engage Journey:
You can also set up an automated campaign to ask candidates for referrals using Sense Engage (Pictured below).
Navigate to Sense Referral "Assistant" section and click the "share" icon on the right corner to copy the "Assistant Link".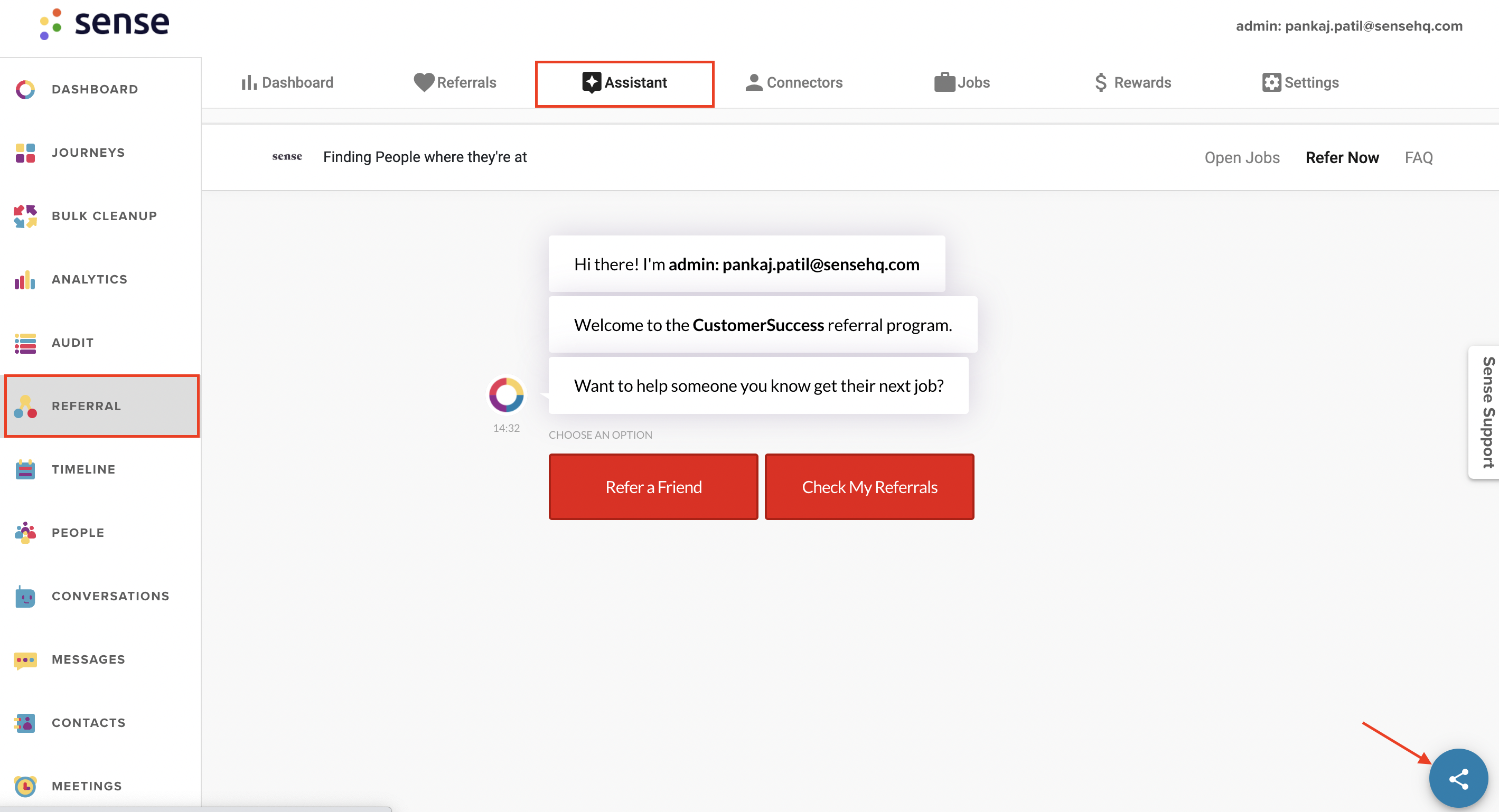 2. Create a Journey from the "Journey" section to share this link with your employees.
For Example: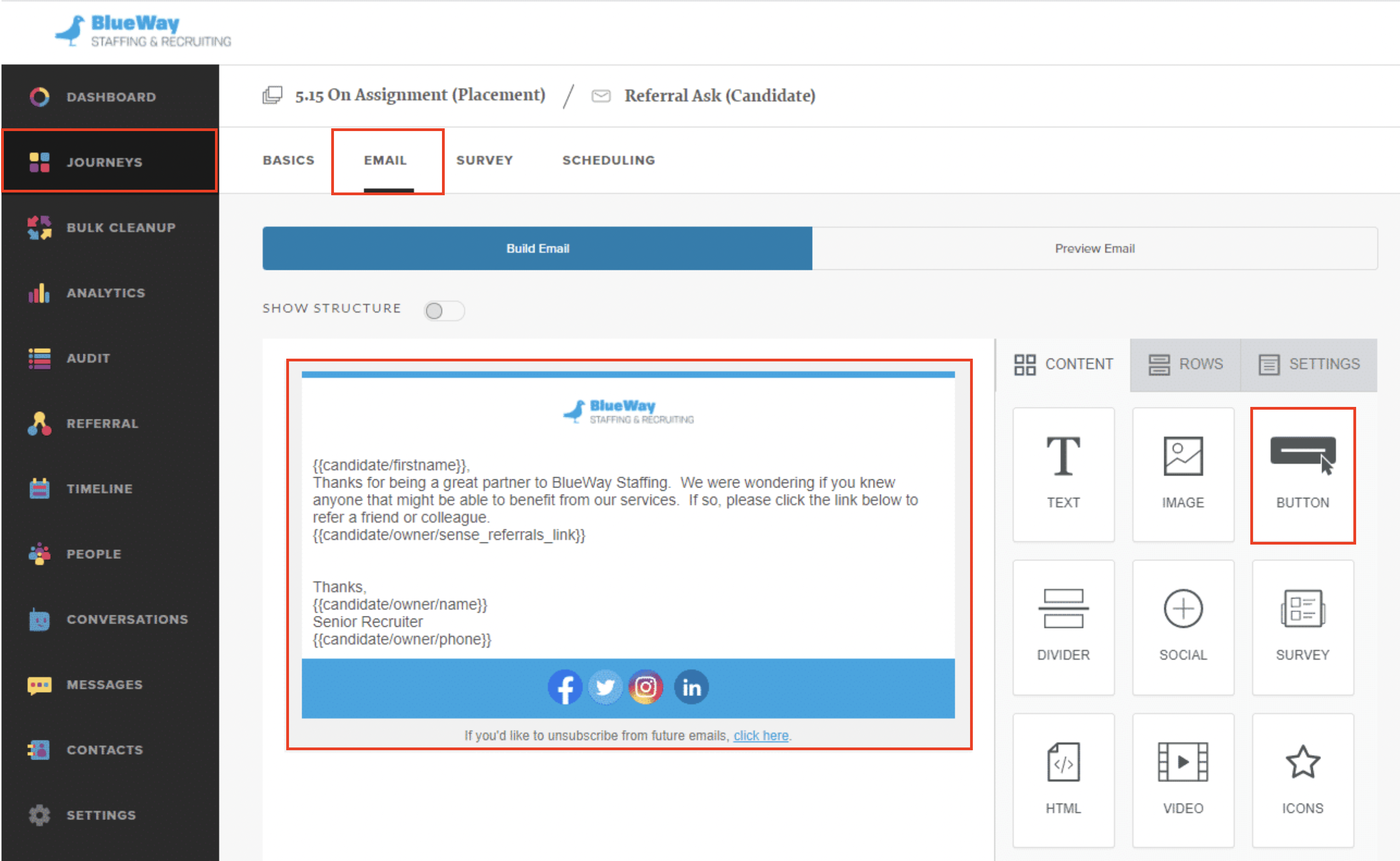 3. If you set up an automated Journey in Sense, it will automatically send employees an email with a link to submit a referral.
For Example: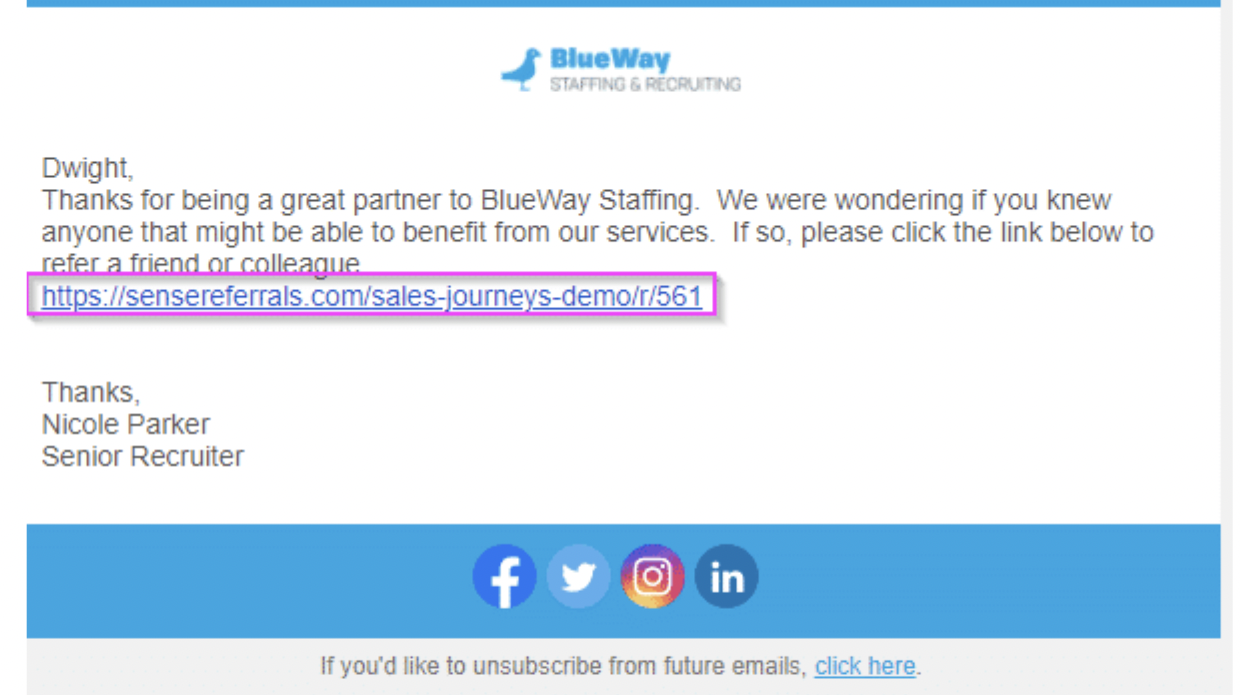 4. After clicking on the link, an employee will be taken to the Referrals Chatbot and will go through an intelligent AI workflow. Employees will be given 2 options to select:
Refer a Friend

Check My Referrals
Each time a Referral is submitted by a candidate from the chatbot, communication will be sent to three different parties:
A thank you email to the person who referred a friend

A welcome and notification email or text to the individual who was referred, and instructions for them to indicate interest in the opportunity/apply for a job

A notification email to the recruiter (owner of the candidate records in the ATS), providing information on the next steps with the referred individual