Table of Contents
---
What is Sense Journeys?
Sense Journey is a way to provide personal communication for everyone in an ATS database, delivered at scale and customised with real-time data.
Below is the Journey home page.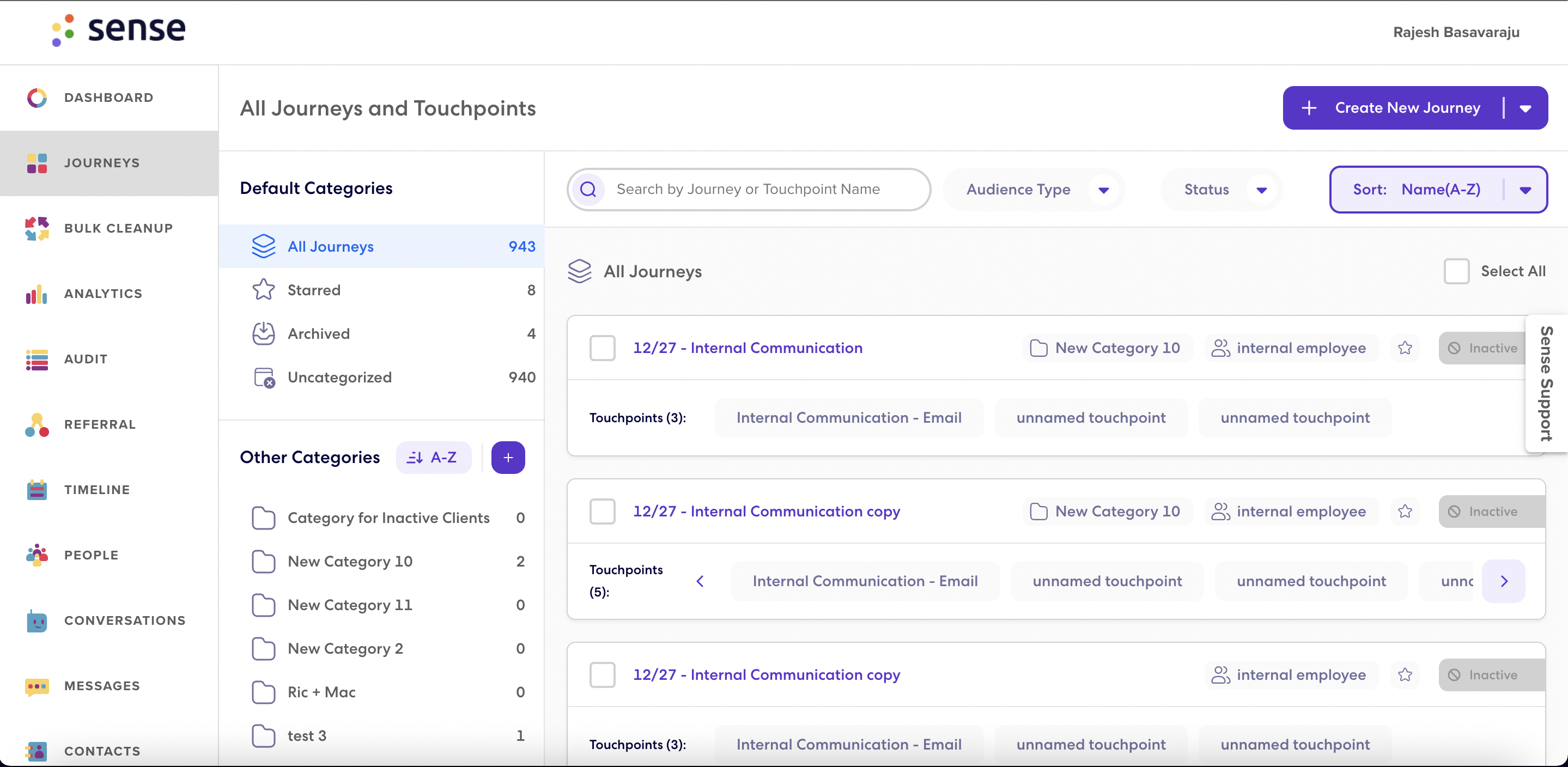 Journeys are a collection of touch points that follow the life-cycle of the specific subject matter and target audience. You can think of these as a campaign or workflow, essentially a subject matter with a lot of communications.
---
What Problems does Sense Journeys solve?
Automation and Engagement
Replace manual tasks with smart touchpoints that respond to talent in real-time

Automatically trigger messages and workflows based on any profile or event data

Increase engagement and satisfaction with robust analytics and definitive ROI metric
Marketing and Branding
Deliver branded, rich media messages, reminders, surveys or videos by text or email

Launch automated NPS surveys and get real-time feedback to improve your business

Help boosting Glassdoor scores through targeted candidate engagement
Analytics
Increase engagement and satisfaction with robust analytics and definitive ROI metric

Real-time data driven from the ATS in one, easy to read dashboard
---
Type of Journeys
With 3 types of Journey Communications ready for you to create, there are so many possible options for you to use to start communicating with your end user. We can break these down into some sample use cases by the type of journey you're planning to send.
Talent Journeys: Focused on candidate engagement throughout their talent lifecycle
Each stage in a candidate's lifecycle has its own narrative. With Talent Journeys, you can communicate with candidates and/or their owners throughout any stage in the placement funnel - this includes: Job Submission, Job Order, Interview/Appointment, and Placement.
Some sample automated use cases:
Interview reminders

and follow-ups to check-in on how the candidate is doing.

Send a candidate a notification of a submission to a particular job.

As a submission moves through the various stages, provide the candidate with automated updates on what's going on to keep them informed.

Garner

NPS

of existing candidates to understand where process gaps exist and how you can improve them to retain talent.
Sales Journeys: Focused on current and prospective clients - to help drive more revenue for your sales team and value to your customer.
It can be not easy to keep in touch with all the points of contact throughout a candidate's journey, but Sales Journeys will enable you to keep these important client contacts in the loop automatically.
Some sample automated use cases:
Automated communication with the hiring manager to share a candidate's feedback.

Could you create communications with client contacts to make sure that contact records are maintained correctly?
Team Journeys: Focused on keeping your internal team aligned and updated - automatically.
Team Journeys trigger notifications to your internal employees based on real-time ATS data, like a change in candidate status or a less-than-stellar candidate NPS score.
Some sample automated use cases:
Share best practices across multiple team members.

Collect internal NPS and garner feedback through surveys.
For more examples, check Use cases.
---
Target Audience :
These are referred to the target audience. Below are the available types.
Contact:

Send an update to your client contact when their status changes

Candidate:

Keep new and database candidates, and their internal owners, engaged

Job Order:

Send an update internally if a job has been posted for a certain length of time but has not been filled

Internal Employee:

Any internal communications for your company

Submittal:

Notify people of a candidate's submission status

Interview:

Keep people in the loop about a candidate's interview process

Placement:

Reach out to people during a candidate's placement, run a re-deployment campaign, and contact active candidates
NOTE: The audience needs to exist in their ATS and cannot be used to reach out to people outside of that already existing data.