Table of Contents
---
★ Overview
The "Look Alike" feature enhances your candidate search process, making it more efficient and effective. With "Look Alike," you can effortlessly identify candidates closely aligned with the skills, experience, and education criteria of your current candidate. This feature enables you to discover hidden gems within your candidate database, making your hiring process more data-driven and efficient.
The 'Look Alike' feature is available on:
Sense TRM > Candidates.
Sense TRM > Candidates > Candidates detailed profile.
Sense TRM > Jobs > Candidates.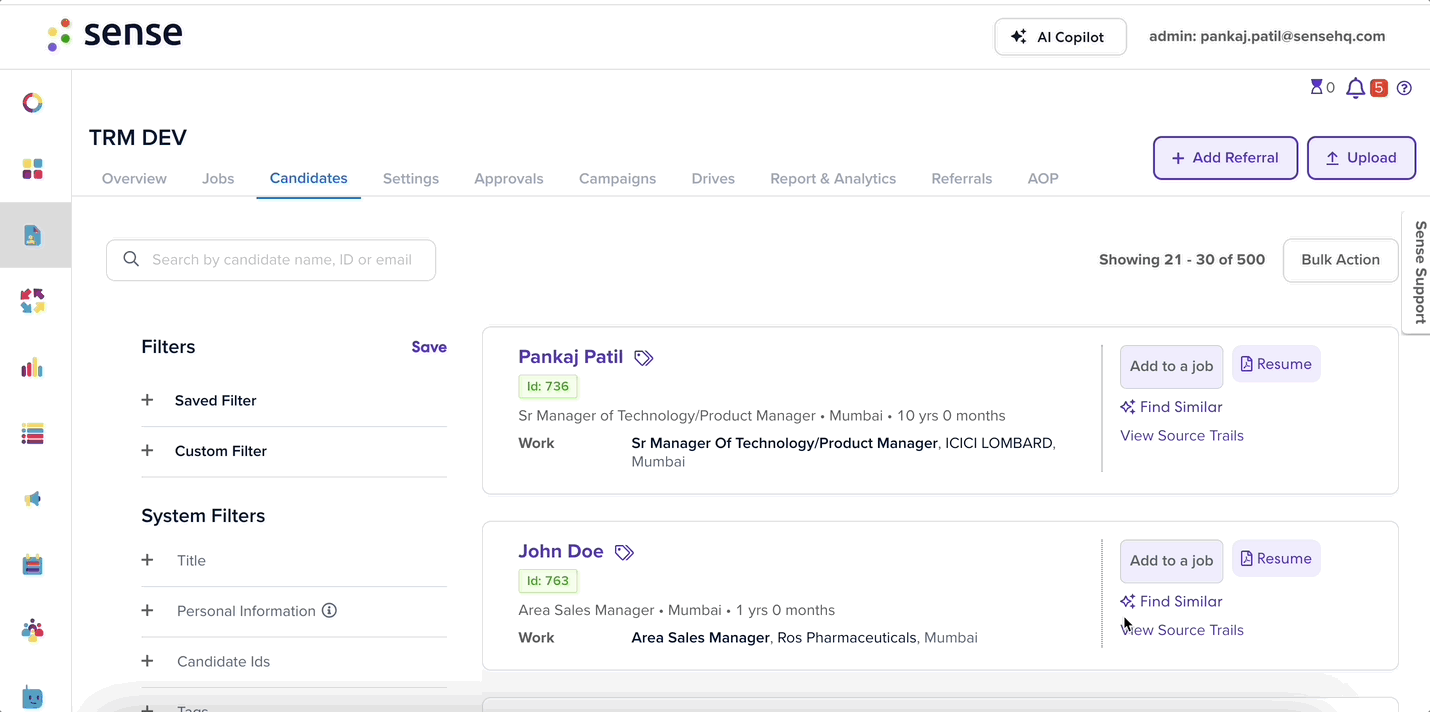 ---
★ Key Highlights
Discover Similar Candidates: Looking for candidates with profiles similar to your current candidate? "Look Alike" is your solution. This feature combs through your candidate database and identifies potential matches based on key criteria.
Matching Scores: We've made it easier than ever to gauge the suitability of each match. "Look- Alike" provides matching scores that reflect how closely a candidate aligns with your specified education, skills, and experience criteria. Higher scores indicate a stronger match.
Streamline Your Recruitment:

The "Look-Alike" feature simplifies your decision-making process. With a list of matched or similar candidates at your fingertips, you can quickly evaluate and consider adding them to your job openings. These candidates might include individuals you've hired in the past or high-performing employees within your organization.
⁃⁃⁃⁃⁃⁃⁃⁃⁃⁃⁃⁃⁃⁃⁃⁃⁃⁃⁃⁃⁃⁃⁃⁃⁃⁃
★ Accessibility
To access the feature;
Log in to Sense.
Navigate to Sense TRM > Candidates.
Click 'Find Similar' located on the right side of each candidate's profile.
After clicking 'Find Similar,' a pop-up will display a list of similar candidates along with matching scores based on education, skills, and experience. You can use the 'Add to a job' functionality to add any of these similar candidates to available job listings according to your preferences.

➥

NOTE

: If there are no matches with the respective candidate's skillset, the system will not display any similar candidates when using the "Find Similar" (Look Alike) feature.

For example;