Table of contents
Overview
Here you can easily add, remove, and manage your users of Sense Messaging. Check the status of invites, add new users and phone numbers, change user settings, cancel active accounts, and more through a newly improved self-service account management page.
Note: Requests for additional numbers must still be made through Sense Support or Customer Success, this page manages existing numbers only.
Access this page in your Sense platform
Click Settings in the left side panel
Then click Users to see all users you have permission to edit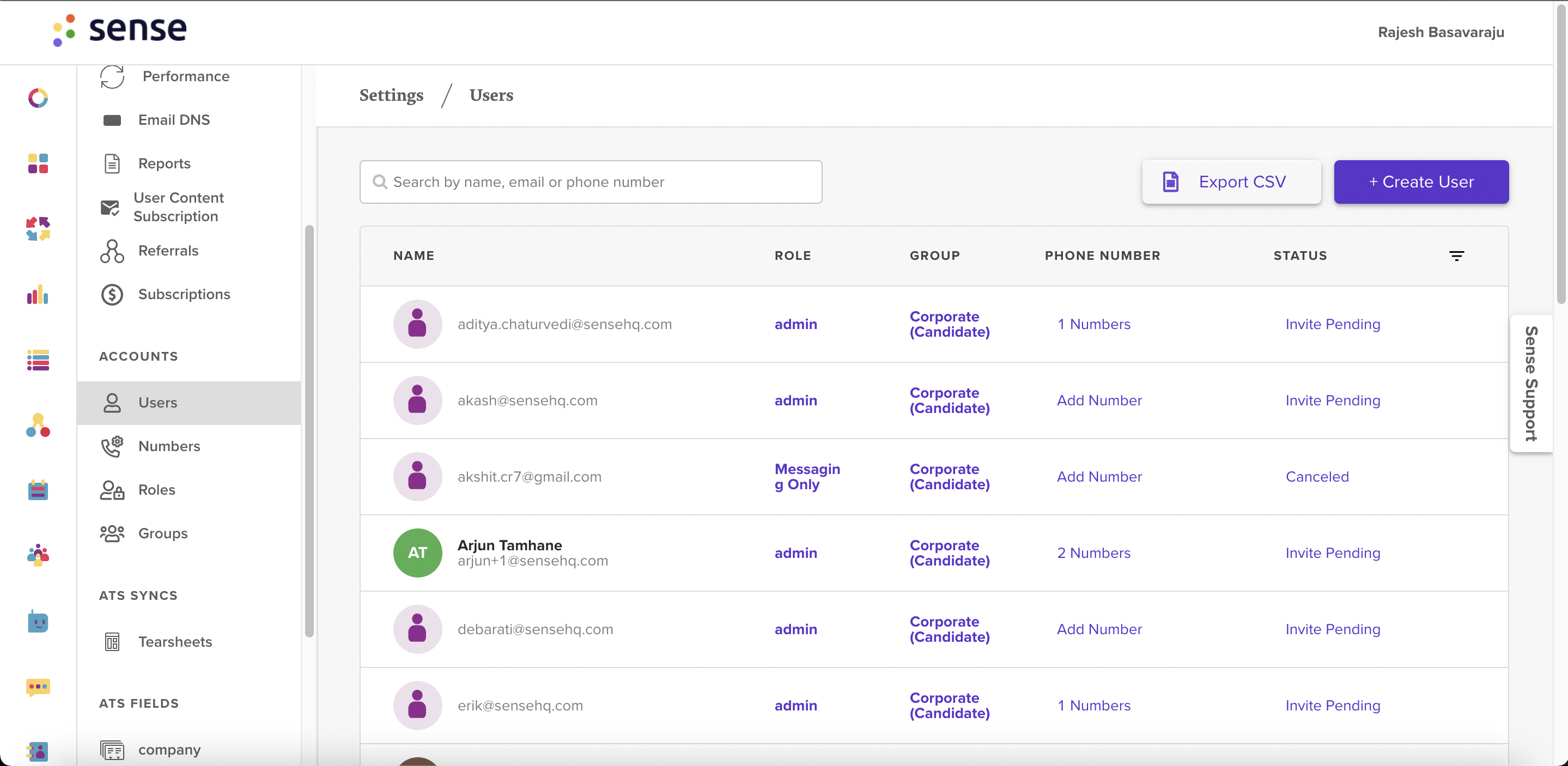 Export CSV
Generate a full list of all your active and invited accounts, roles, and messaging numbers.
CSV provides all of the following information;
Email Name

Assigned SMS number

SMS # Friendly Name

Forwarding number

Security Group

Security role

Invite accepted

Account deactivated

Last message sent

ATS record id

ATS record name
Click on Export CSV. Then Popup will appear about the status of the report. Click Okay to ignore. Or Click on View Reports to redirect to the reports page. As you can see your report is in progress.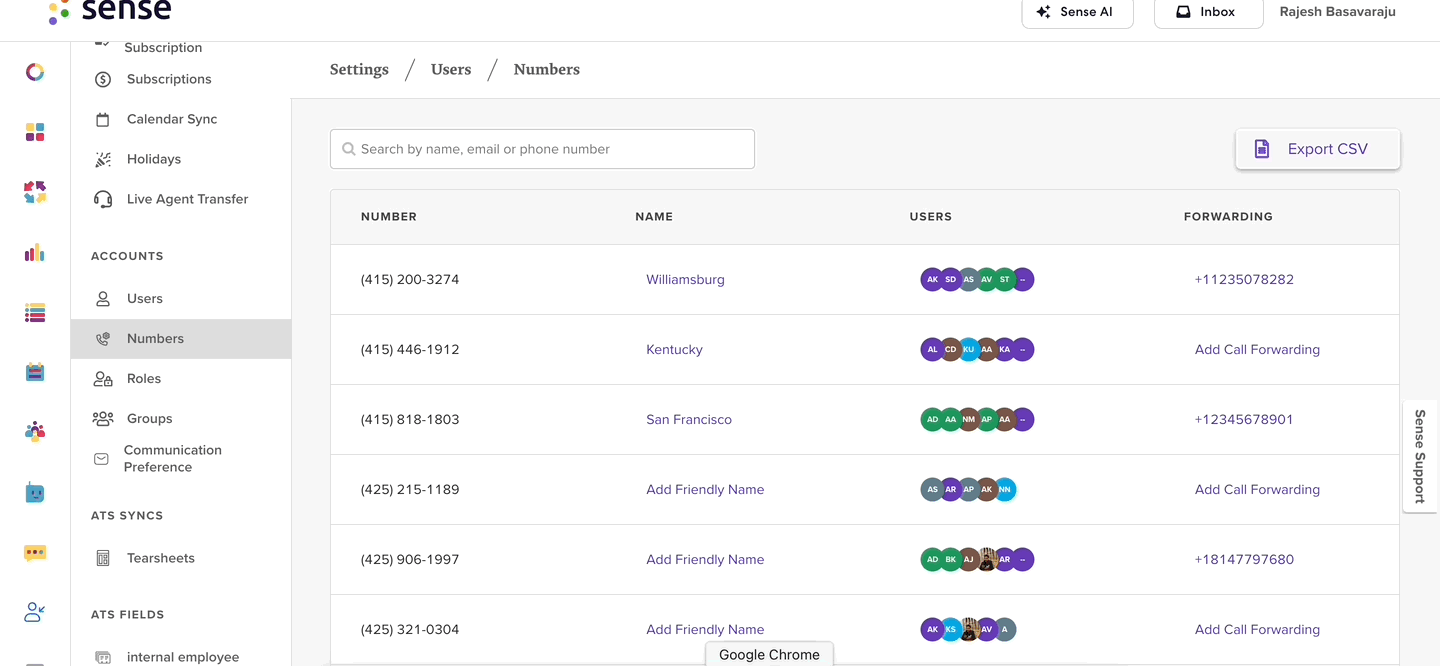 Once the report is ready, you will pop up saying your report is ready. Click on View Reports. It will redirect to the Report tab where all the reports will be available. The very first one will be yours you can click on Download Report to download.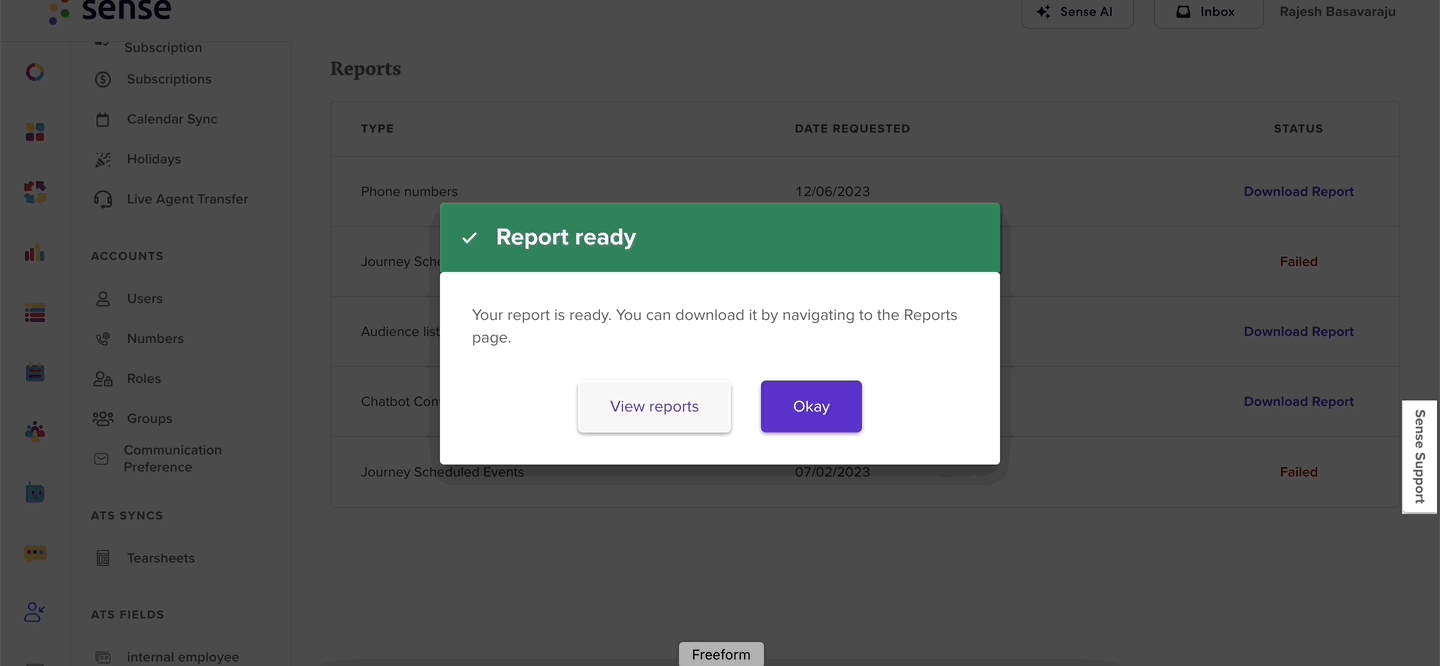 Create User
Add new users to your Sense Agency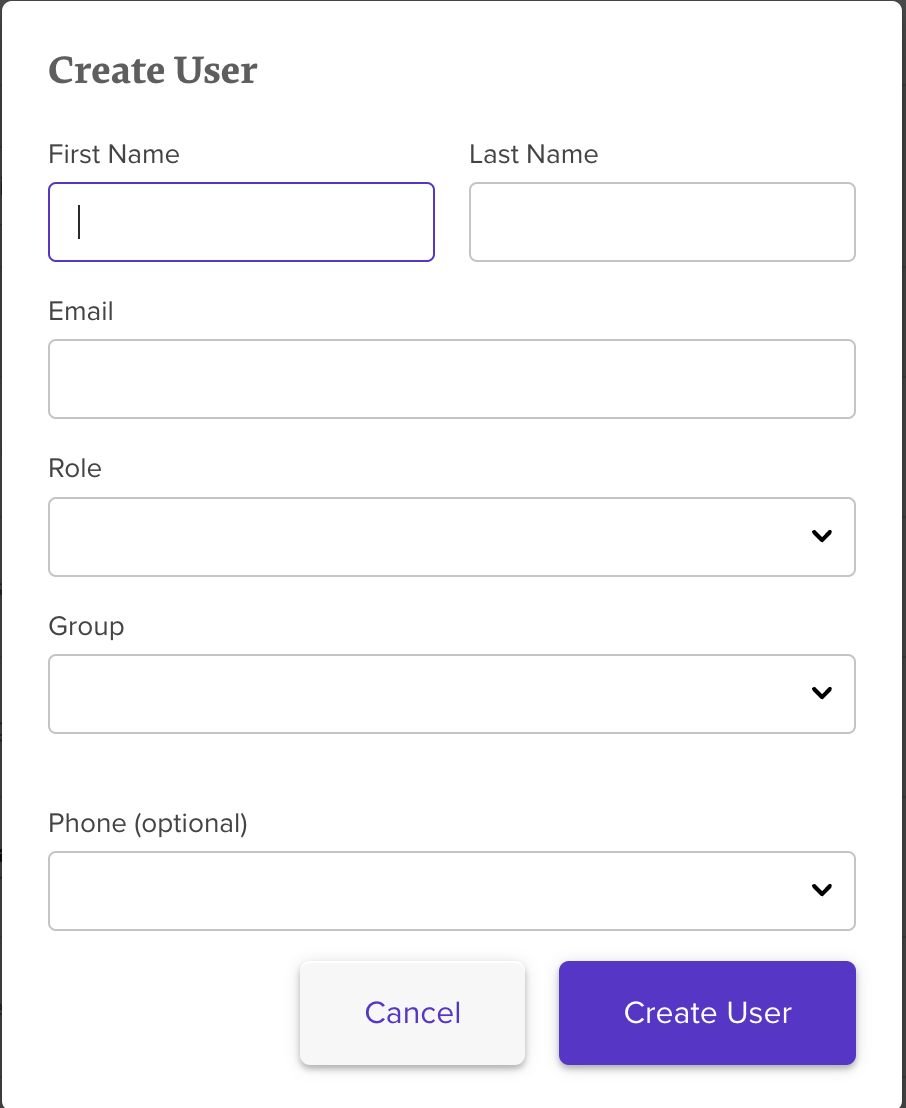 Update User
You can update the user details by clicking on the three dots at the right end of the user. You can do it only for Account Accepted users only.
NOTE: If you click on the Role name or Group name you can update the details of selected Role and Group.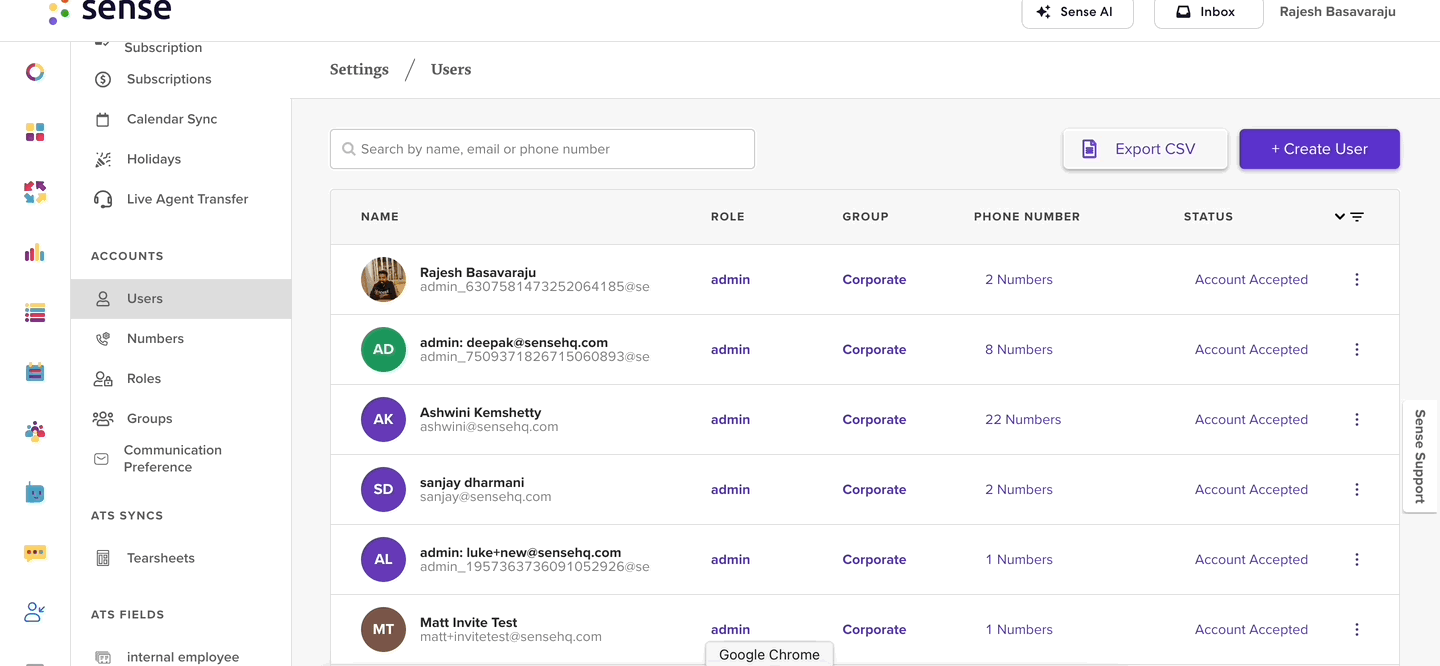 Phone Number
Add Numbers for new users.
Click on Add number for any user for whom no phone numbers are assigned. Select the number.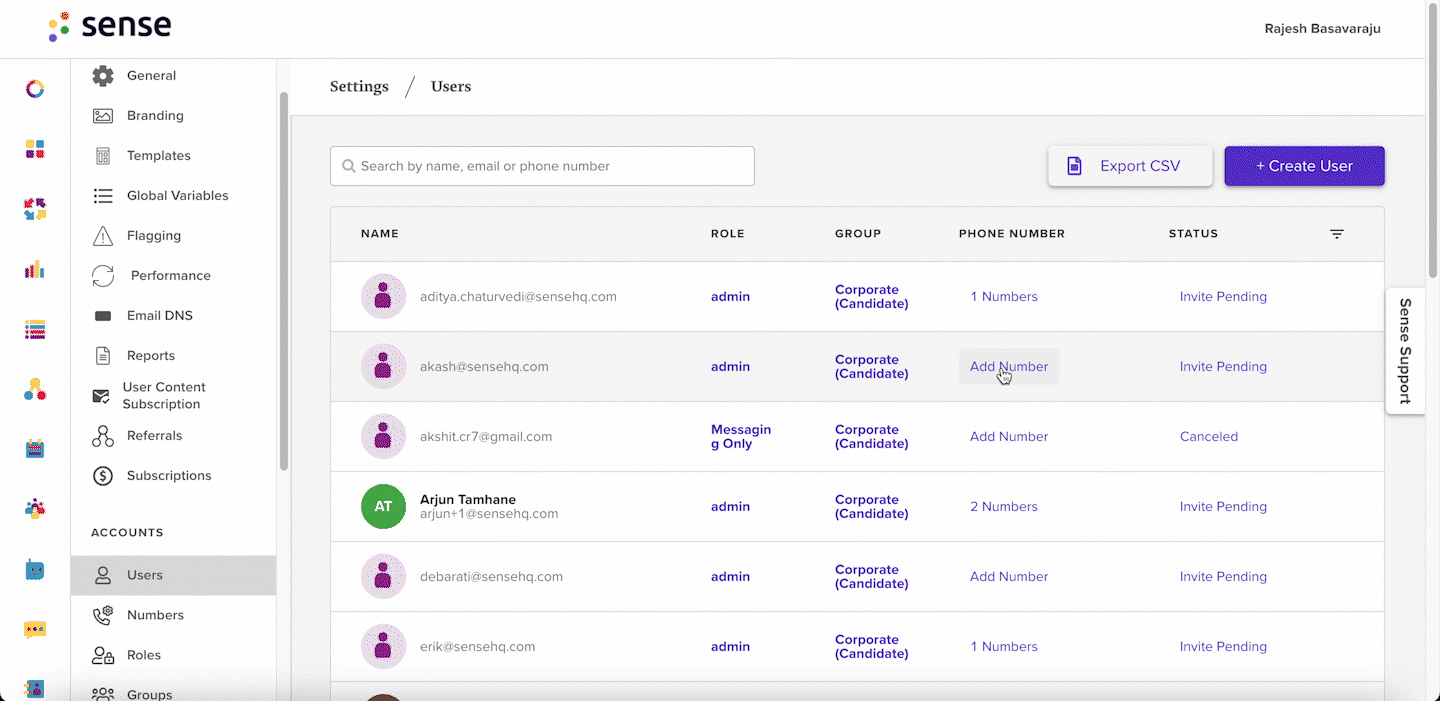 For users who already have a number and you want to add one more number click 1 number/2 number then select add number. Then select the number from the available number.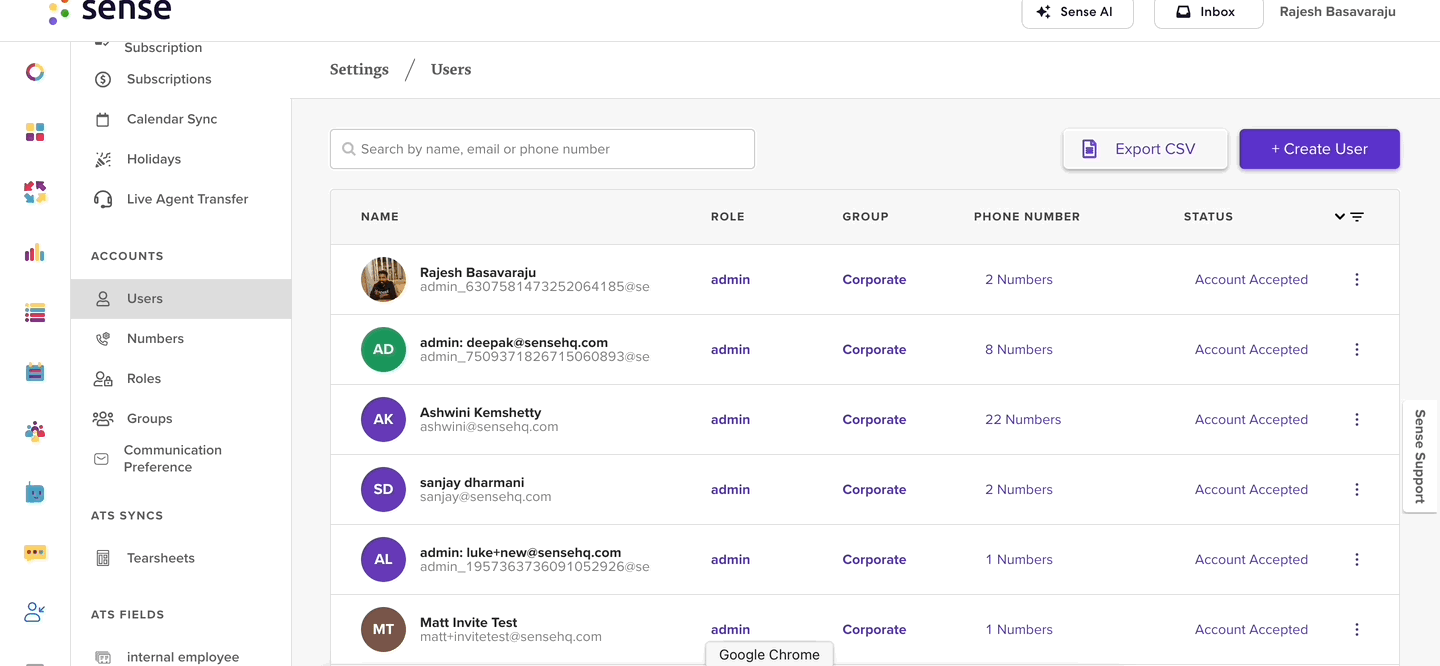 For users who share a number, hover over the icon next to a number to view who else is part of that shared inbox:

Status
You can view and change the status of your users and their invites by looking at the right-hand column. Here's what each status means and what you can do:
Not Invited: An invite has yet to be sent. Click to send an invite.
Invite Pending: Click to resend the invite email or cancel the invite.
Canceled: Invite was canceled. Click to resend the invite.
Account Accepted: Click to deactivate the account.
Deactivated: The account was suspended. Click to un-suspend.