SMS Opt-in is the process of obtaining and documenting a candidate's express consent to receive SMS from your business. The benefit of implementing SMS Opt-in is reduced risk of carrier filtering resulting from spam complaints and high opt-out rates.
SMS Recruiting and the Law
TCPA (Telephone Consumer Protection Act) states you must get consent in writing before sending telemarketing or advertising texts. Recruiting communications span a wide array of activities, so you should consult your legal counsel to navigate your specific use cases and how they would be considered within a TCPA context.
Carrier Guidelines
Even if your communications are legal, they may still feel spammy and non-personalized depending on how you have implemented opt-in consent, how targeted you are able to be in your outreach and the quality of your content. In other words, being legally compliant doesn't shield you from being filtered on carrier networks. At the end of the day, if users are opting out of receiving texts from you or flagging your content as spam, carriers will block your number. Appealing these blocks often requires you to submit proof that you are adequately adhering to SMS guidelines set forth at a carrier level.
Opt-ins help set accurate expectations with your recipients about what type of messages they will be receiving and why. This understanding makes it much less likely for recipients to report your traffic as spam or opt-out of your campaigns. Both blocking and opting out signal to carriers that your number is sending traffic that their customers do not want to receive, and this can trigger filtering.
When a number is filtered, it can take upwards of 3-7 business days or more to get the carrier to remove the block. It may also require you to submit documentation around how your opt-in is implemented. To avoid carrier-side SMS downtime, it is important to review the below policies and implementation guidelines to ensure you have correctly implemented SMS opt-in. It's also good to have screenshots of your opt-in process on hand to minimize delays if your number is blocked and carriers request proof of opt-in to unblock.
Here are the ways we recommend implementing SMS Opt-In:
Web, App, or Paper Forms
Your candidate can opt-in to receive messages when they give their mobile number to a website, mobile app, or paper form, or otherwise without using a handset.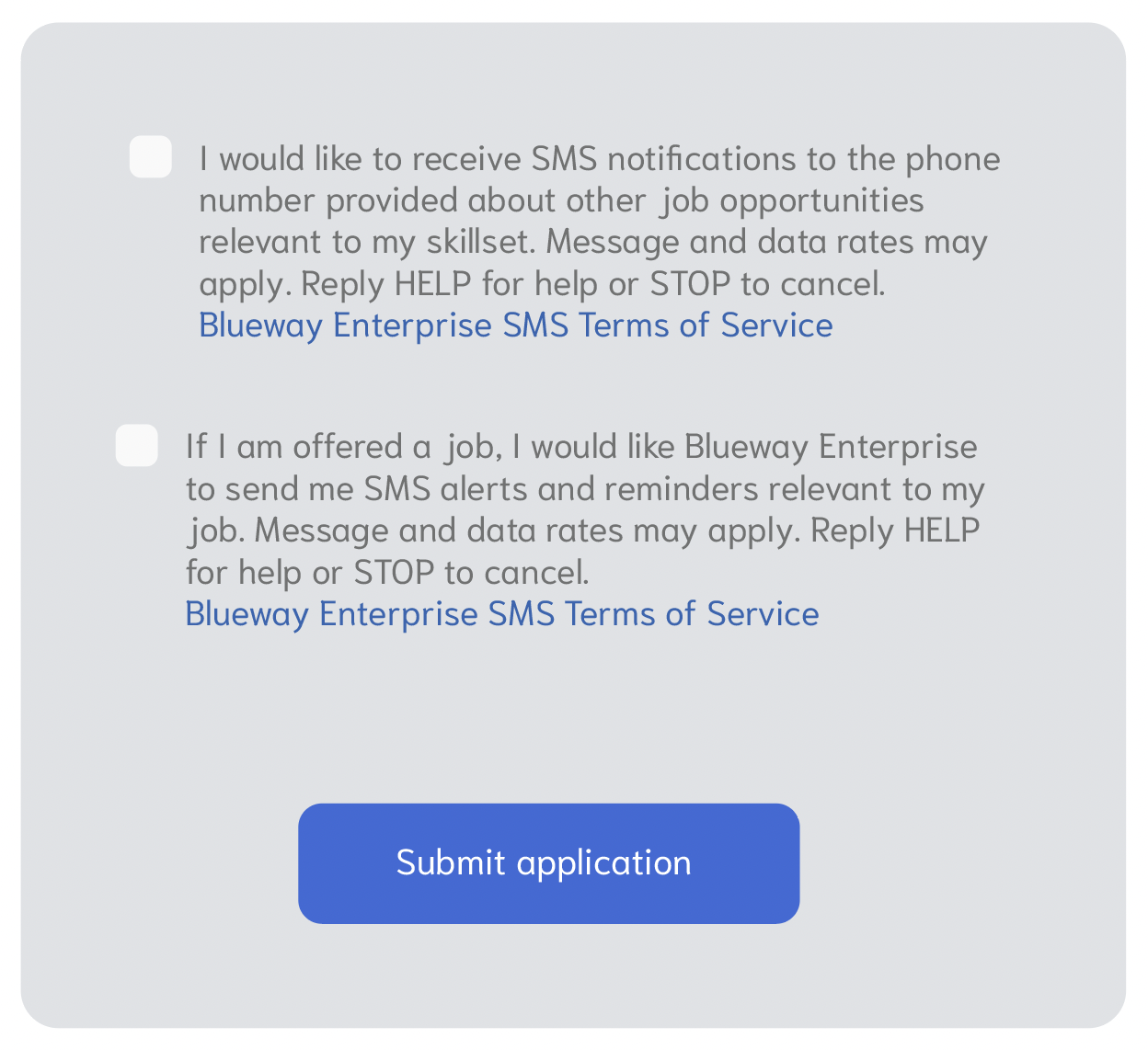 Once the candidate submits their phone number and consent, they should receive a text message asking them to confirm the opt-in.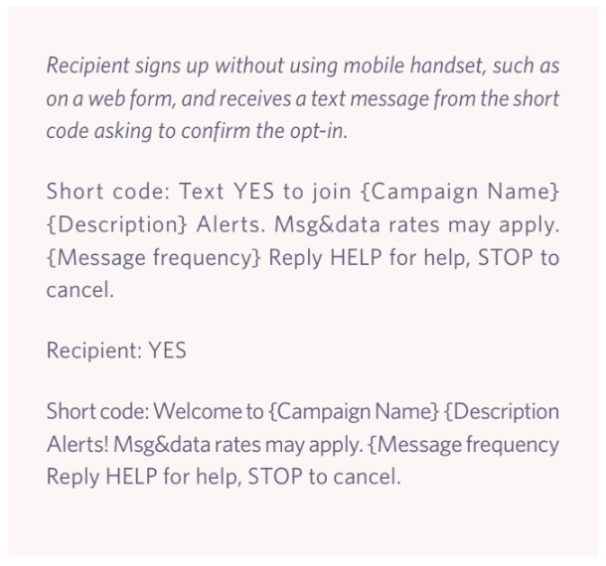 Specific Recruiting Examples
I would like to receive updates from a recruiter about this job via SMS. Message and data rates may apply. Text STOP to cancel. [Link to SMS Terms]

I would like to hear about other job opportunities or offers via SMS. Message and data rates may apply. Text STOP to cancel. [Link to SMS Terms]

I would like to receive updates and reminders related to my job placement via SMS. Message and data rates may apply. Text STOP to cancel. [Link to SMS Terms]

I would like to receive interview, timecard, or payment notifications and reminders via SMS. Message and data rates may apply. Text STOP to cancel. [Link to SMS Terms]
Tips
Implement an optional checkbox. Carriers will often reject proof of opt in which is "implied" or "non-consensual." You must show that the candidate was able to complete their application without consenting to receive SMS.

Be specific about the kind of SMS the candidate is consenting to receive. Are they consenting to receive updates about the specific job they are applying for, jobs that are relevant to them, or are they consenting to receive solicitations for any job opportunities you have available?

Multiple checkboxes. This may actually improve your opt-in rate because candidates are able to select the type of communication they want to receive and are less deterred by the prospect of opting in to receive any sort of communication, including stuff they don't necessarily want to get.

Segment your opt-ins and phone numbers by use case. If someone consents to receiving SMS updates about a job they are currently working, they are probably not expecting to receive SMS about future job opportunities, unless your outreach is personal, relevant and targeted.

For example, you could probably text someone whose job is ending soon about other positions they might consider, but you should not include this person in general broadcast soliciting opportunities, especially if you are unsure whether they would be available for the jobs you are sending.

If you implement this type of opt-in, you can proactively submit a screenshot or URL to your CSM. This will allow us to automatically submit your proof of opt-in if your number ever runs into filtering issues and this information is requested by carriers.
Email Opt-In
If your candidate has already opted in to receive emails, you can obtain SMS opt-in consent through email. You could either ask them to reply to the email to provide consent or include a link to a form within the email to track responses more programmatically.
You can use the Survey feature in Sense Engage to set up opt-in consent workflows. Please reach out to your CSM for assistance in setting this up.
Inbound SMS Opt-In
Your candidates can opt-in to receive SMS communication by texting into your 5-digit shortcode or 10-digit long code numbers. Here is an example of what that would look like: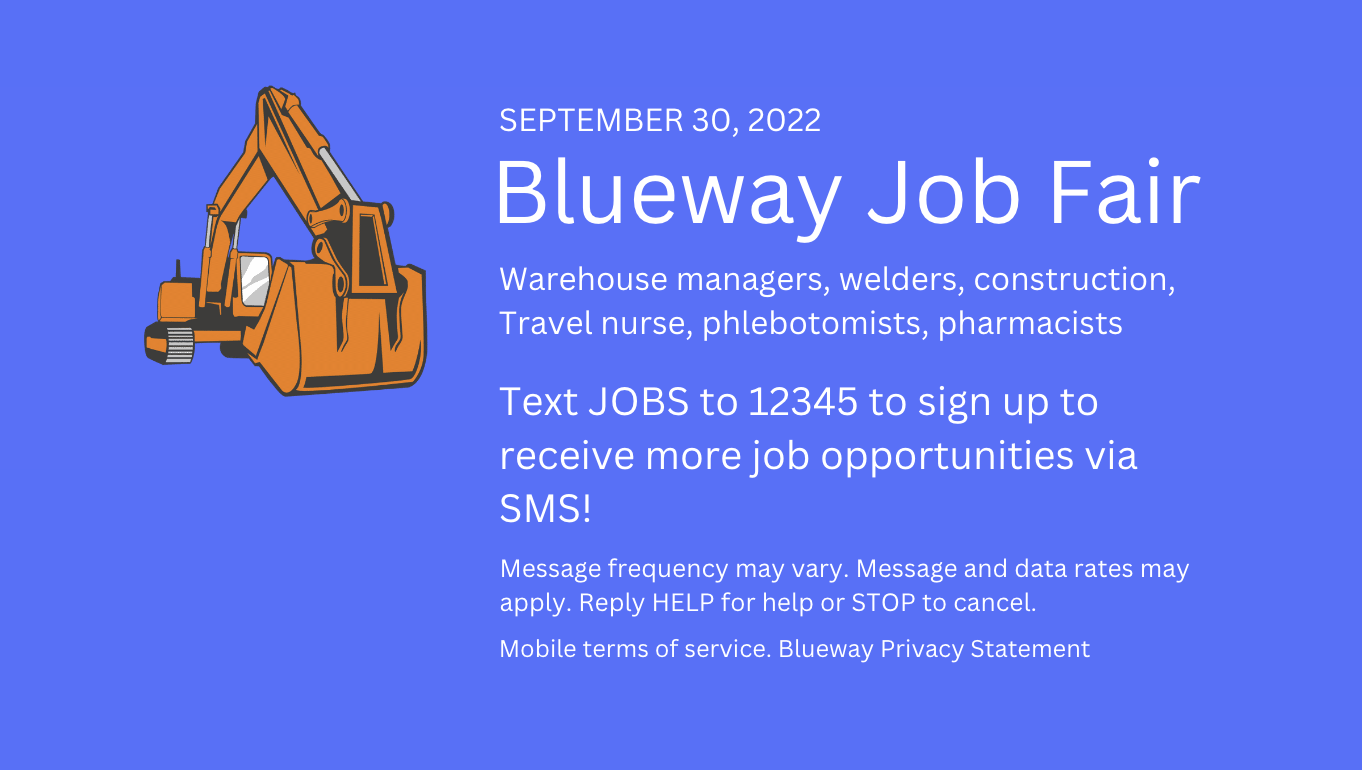 The candidate would see marketing collateral displaying your phone number and keywords to text to begin receiving communication from you. Once you receive an inbound from this candidate, they have consented to receive an SMS. You should confirm their consent by automatically sending a Welcome message confirming the type of information they will be receiving and additional information about how to opt-out.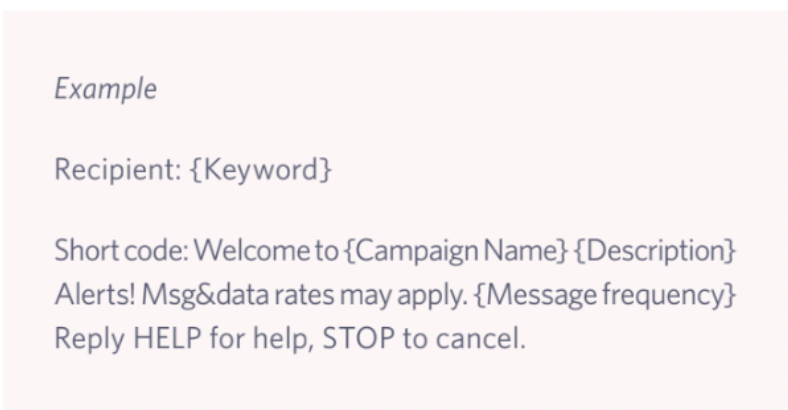 IRL Opt-In
Your candidate can give verbal confirmation over the phone or in person in certain circumstances, but in the event that you are audited by carriers, you will need to provide detailed proof of the opt-in process, explain where and how you store the opt-in data, and records that are time stamped with opt-in date etc.
"We collected pen and paper opt-in at a job fair. Then we inputted the opt-ins to our Applicant Tracking System."
The carrier may then ask for a photo of the form that was provided to candidates as well as a screenshot of how opt-ins are recorded in your ATS. You can download a sample opt-in form below.
TLDR
In most recruiting cases, you do not need to receive explicitly written opt-in consent prior to texting candidates (don't take our word for it, check with your legal team!) – but it is highly recommended that you do. Why? Because you'll likely get carrier filtered if you don't.
Carrier Audits: Proof of Opt-ins
When carriers come knocking asking for a description and proof of how your opt-in process works, here is what they are looking for:
Good Examples

:
"Candidates check a box on the agency's website to consent to receive SMS about potential jobs, ongoing job application status, or urgent work/pay/timecard reminders and notifications."
"Application includes an SMS opt-in section where candidates can submit a phone number to receive SMS updates on ongoing job application status."
Bad Examples:
"Checkbox on application website" Issue: Too Vague
"SMS automatically sent to applicants where candidates can text "STOP" to stop receiving messages." Issue: SMS is not a valid opt-in method

"Candidates are informed that upon signing up for an account or submitting an application, they are consenting to receive SMS" Issue: Implied consent is not a valid opt-in method. Needs to have a clear indicator and option to not opt-in.
SMS Opt-In form:
Link to Sample SMS Opt-In form: https://docs.google.com/document/d/1cM-_aSRXaCzRal-GNRYARTzMNbnzIXRYg-INKePwBGQ/edit