Table of Content
---
★ Overview
Sense Messaging is now integrated with the "WhatsApp Messaging" feature to enhance your hiring process by reaching more candidates on their preferred communication platform.
The WhatsApp Messaging feature allows you to send 1:1 or broadcast messages to groups of candidates at a specific stage in your hiring process via WhatsApp.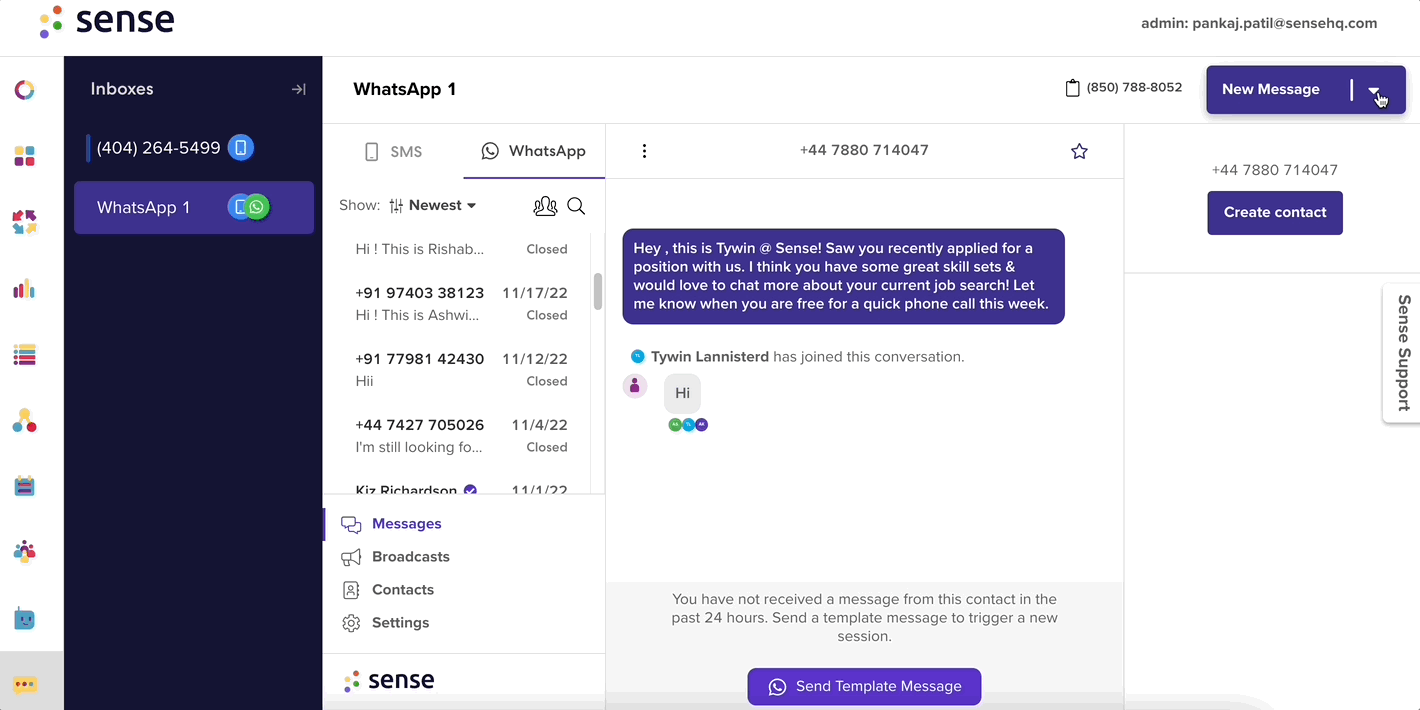 ---
★ What is WhatsApp Messaging
WhatsApp Messaging is a new integration in Sense Messaging that allows you to communicate with users on the WhatsApp platform. This adds another channel for recruiters to connect with candidates and job seekers

.

WhatsApp Messaging has similar features as SMS within Sense Messaging, like Shared Inboxes, Chrome Extension Replies, Conversation Context, Template Selection, Mobile App Communication, and all the other elements of Sense Messaging

.

The purpose of adding WhatsApp to Sense Messaging is to enhance your hiring needs by helping your recruiters to meet more candidates on their preferred communication platform, i.e., WhatsApp.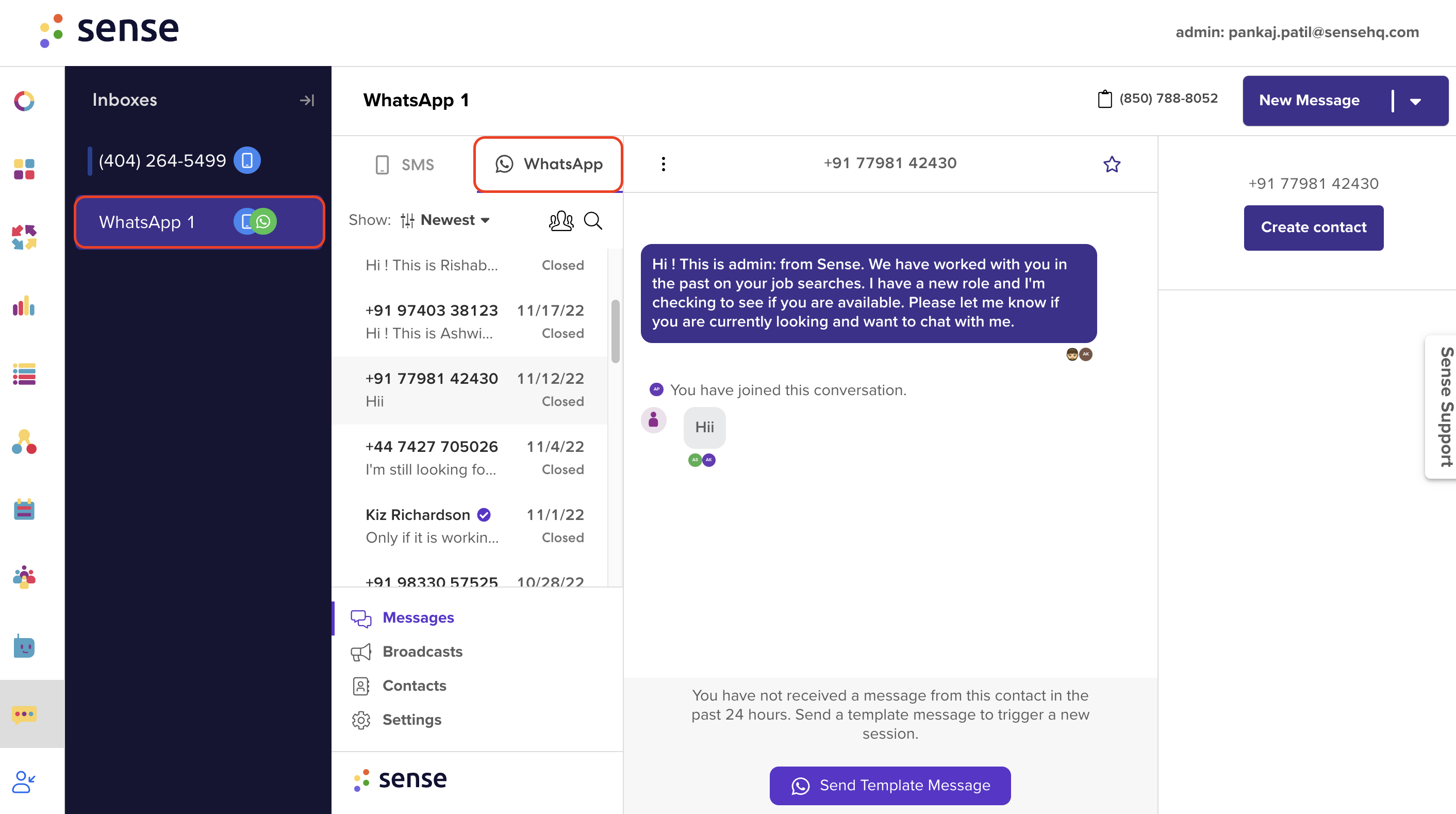 ---
★ Benefits
Helps Global recruiters to reach candidates where they are

WhatsApp is the preferred messaging platform for Global Candidates/recruiters

Increases your response rates with faster response times

Saves time with broadcast message capabilities

Ability to send WhatsApp messages via chrome extension and from the mobile application

More collaboration for recruitment teams

Decreases candidate drop-off rates & accelerates your hiring needs.
---
★ How to use WhatsApp Messaging
Important: Ensure you have allocated a valid WhatsApp-enabled mobile number to use the WhatsApp Messaging feature.
[1] On your Sense Dashboard, navigate to Sense Messaging.
[2] You can see the two different sections on your Sense Messaging dashboard, one is for SMS, and the other is for WhatsApp.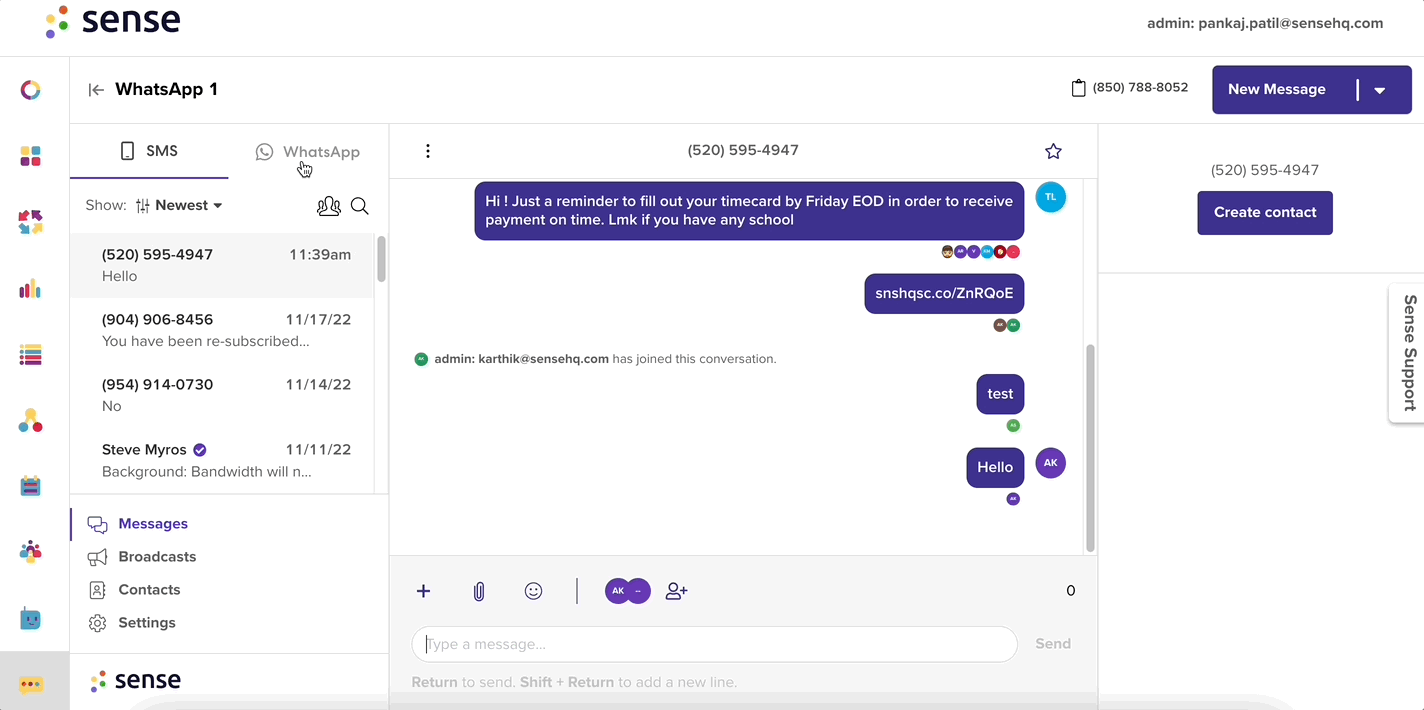 [3] Navigate to the WhatApp section to start your conversations.
[4] To start your WhatsApp Communication, you must initiate the conversation using a pre-approved template message.
[5] Once the candidate replies to your message, you will have a free-text window open for the next 24 hours. In this 24-hour window, you will have access to use all of the Sense Messaging functionality, such as sending attachments, and emojis, scheduling a meeting, adding conversation owners, checking conversation context, and more. This timeline will reset for 24 hours each time a candidate replies to your message.
Note: You can see the free-text timeline on the right side of your recipient's contact number.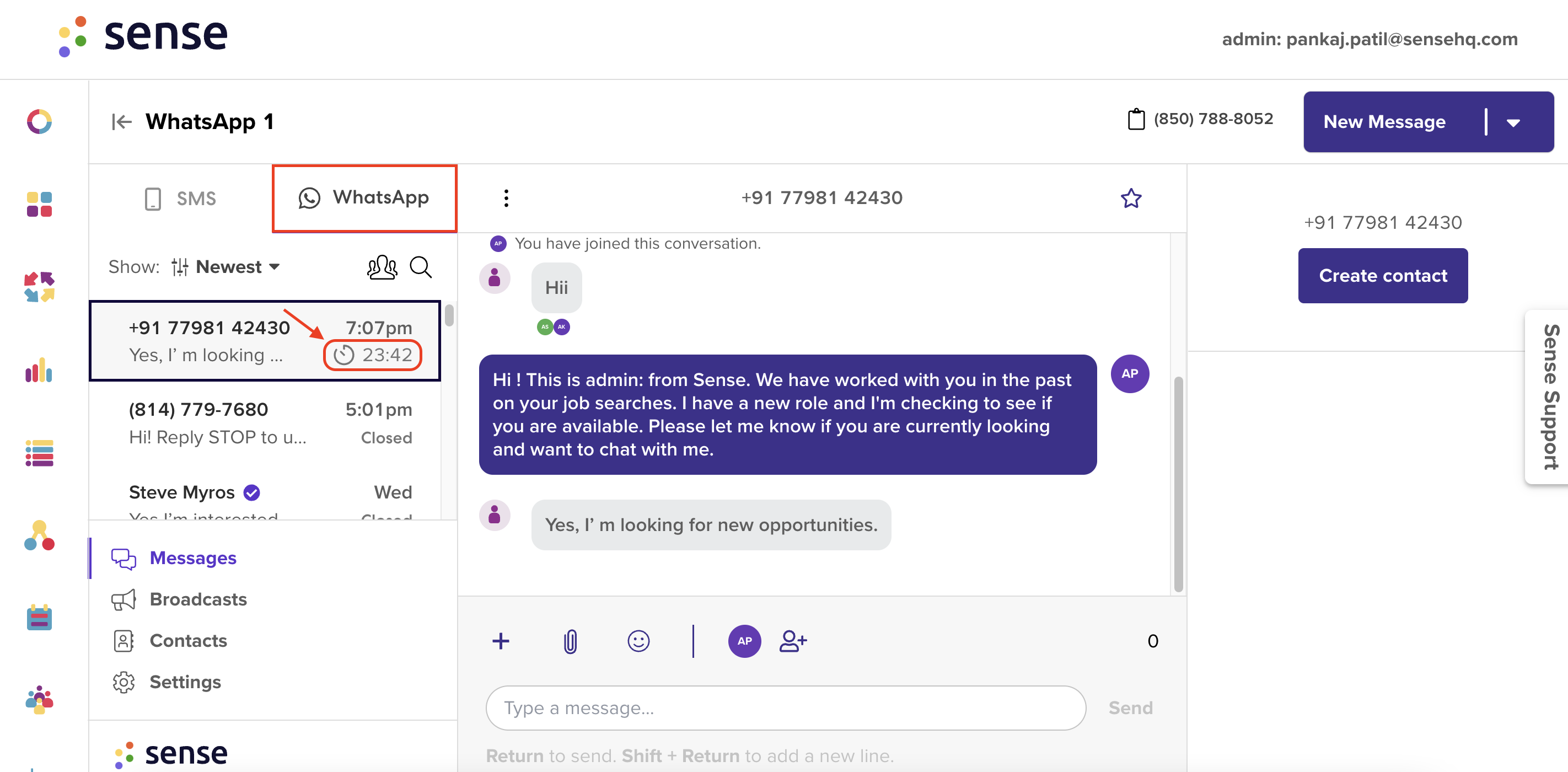 [6] If there is a break in communication for 24 hours during your conversation, you will have to trigger/initiate a conversation again by sending out a template message.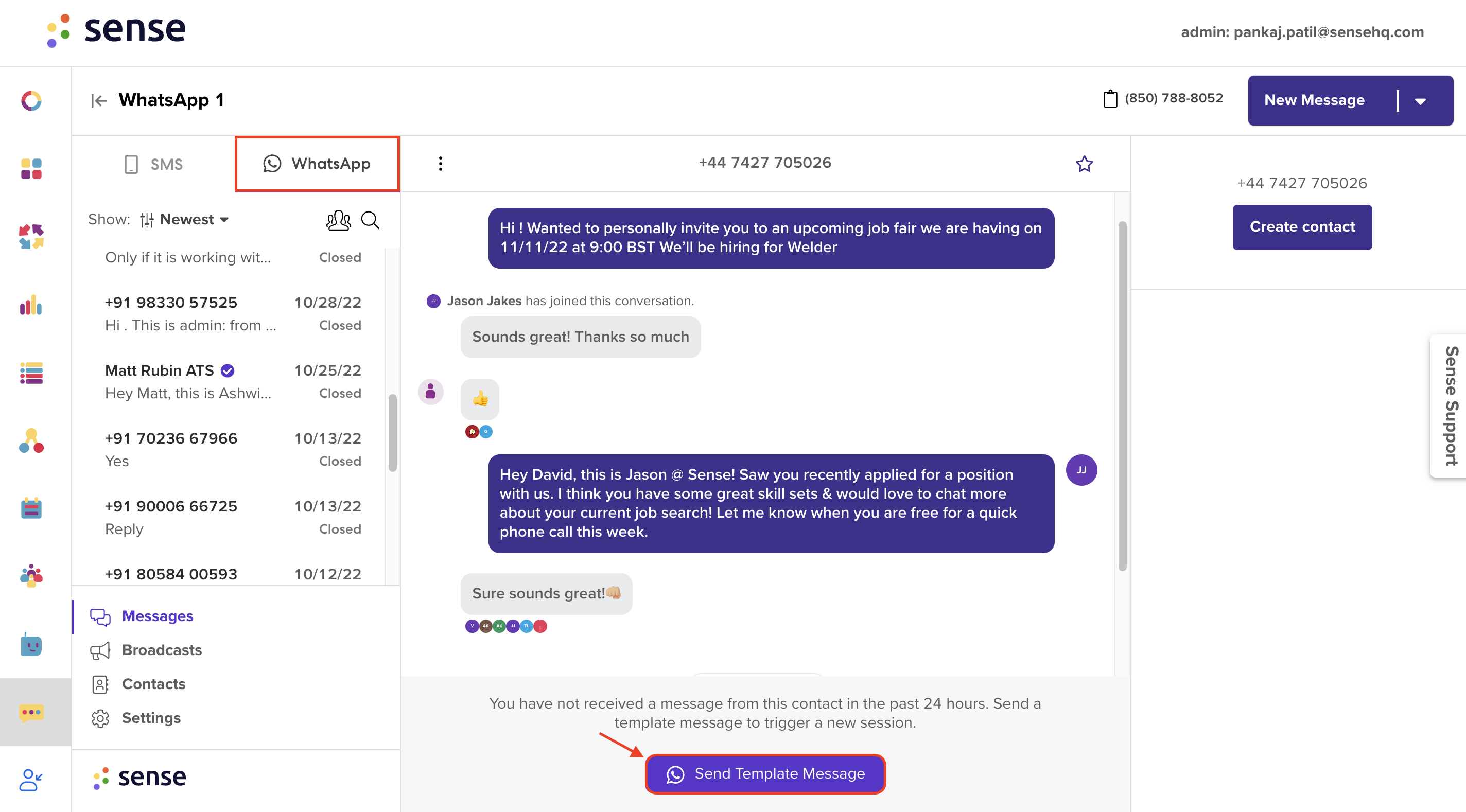 ---
★ Key Notes
All WhatsApp messages are sent and managed in Sense Messaging to ensure all your conversations are recorded and nothing is lost.

Please note that the user has to use a Template Message to initiate the conversation with candidates. Once the candidate replies to your message, you can do the free texting for up to 24 hours. The free text window closes 24 hours after the last incoming message was received.

If you wish to send a message after the expiration of 24 hours window, you will have to initiate a conversation again by sending out a Template Message.

On the Sense Messaging dashboard, you will have a separate tab for SMS and WhatsApp to help you distinguish between the two platforms easily.