★ Pre-screening Question Generator
Sense AI allows you to generate pre-screening questions for your job by providing inputs such as the job title, job description or by selecting existing jobs from your ATS. It also offers the capability to enhance the content of these questions with AI.
To access this feature,
Log in to Sense.
You can find the Sense AI button on the upper-right side of your screen.
Click on Sense AI.

On Sense AI, click

Pre-screening Questions.

Click + Create New on the Pre-screening generator.


Next, select an input from which you wish to generate the pre-screening questions, such as;

By Job Title

By Job Description

By Jobs assigned to you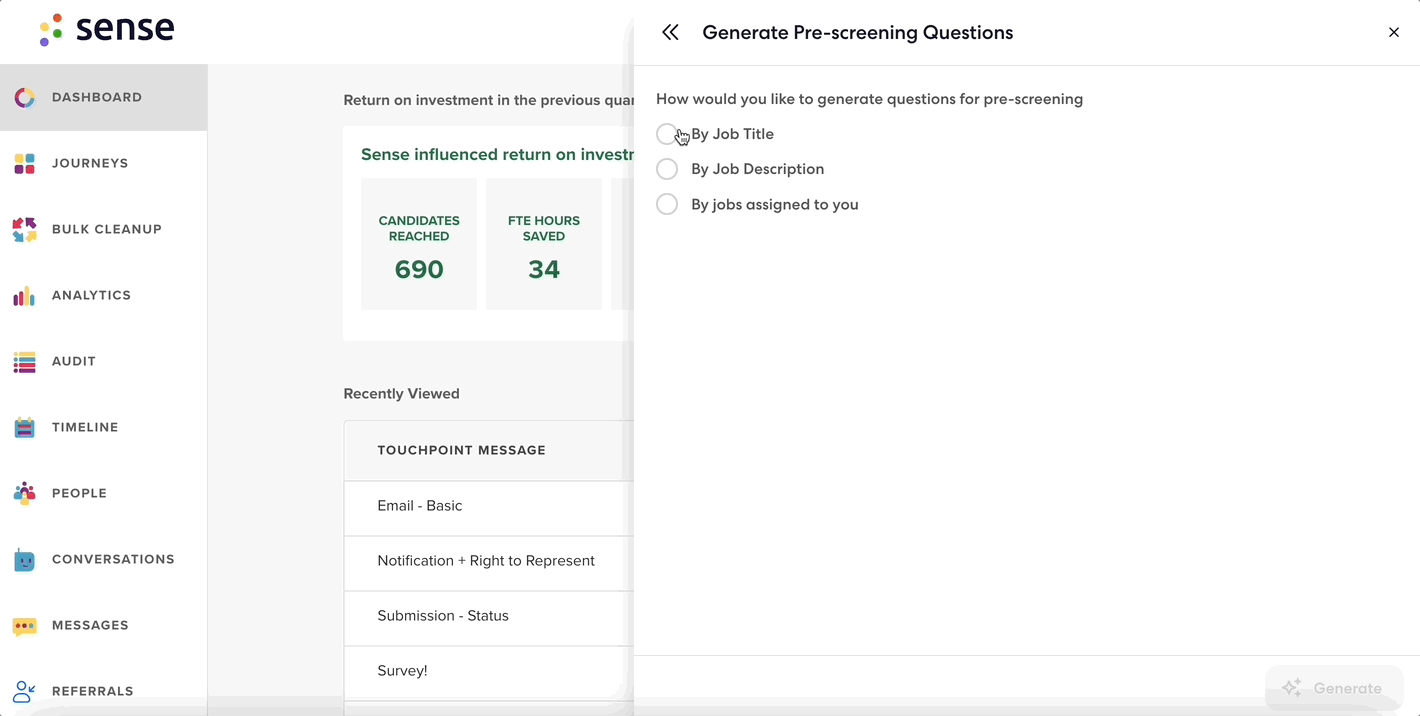 ➠ Example 1: By Job Title
➠ Example 2: By Job Description
➠ Example 3: By Jobs assigned to you
Once you select a desired option, click Generate by AI to create pre-screening questions.


Sense AI will generate pre-screening questions based on the provided inputs. Once the pre-screening questions are generated, you can use the below-mentioned options;




Click the three-dot option to Edit or Remove the question. You can also make the questions Shorter, Longer or perform a Grammar Check.
OR; you can use the Sense AI prompt box at the top to enhance the content of your questions in two ways:


First, you have the option to follow the system's provided suggestions, which include making the questions Professional, Friendly, or Casual.

Second, you can manually input your own suggestions to enhance the content of your questions. For example, you can suggest to make the questions more conversational or include more questions, etc. This flexibility allows you to tailor the questions according to your specific needs and preferences.

For Example;

Click Add Question to add more questions of your choice.

Once you are satisfied with your questions, click Create Chatbot to create a pre-screening chatbot with these available questions.
➥ Important: Currently, creating a Chatbot Conversation Flow with Sense AI is not fully available. You can create a Chatbot flow, but adding more questions, nodes, or other chatbot functionality will not be accessible at this time.