Table of Contents
---
★ Overview
The Journey Analytics offers you detailed insights into the performance of your Journeys and Touchpoints, all conveniently accessible from a single dashboard. Journey Analytics covers a spectrum of essential metrics, including the overall adoption of Clicks, the Deliverability of your touchpoints, and People Engagement metrics. Additionally, it provides a dedicated Reports section for in-depth analysis of your delivery history, click tracking and detailed engagement reports.
By leveraging the power of Journey Analytics, you can transform your user engagement strategies and drive success in your campaigns.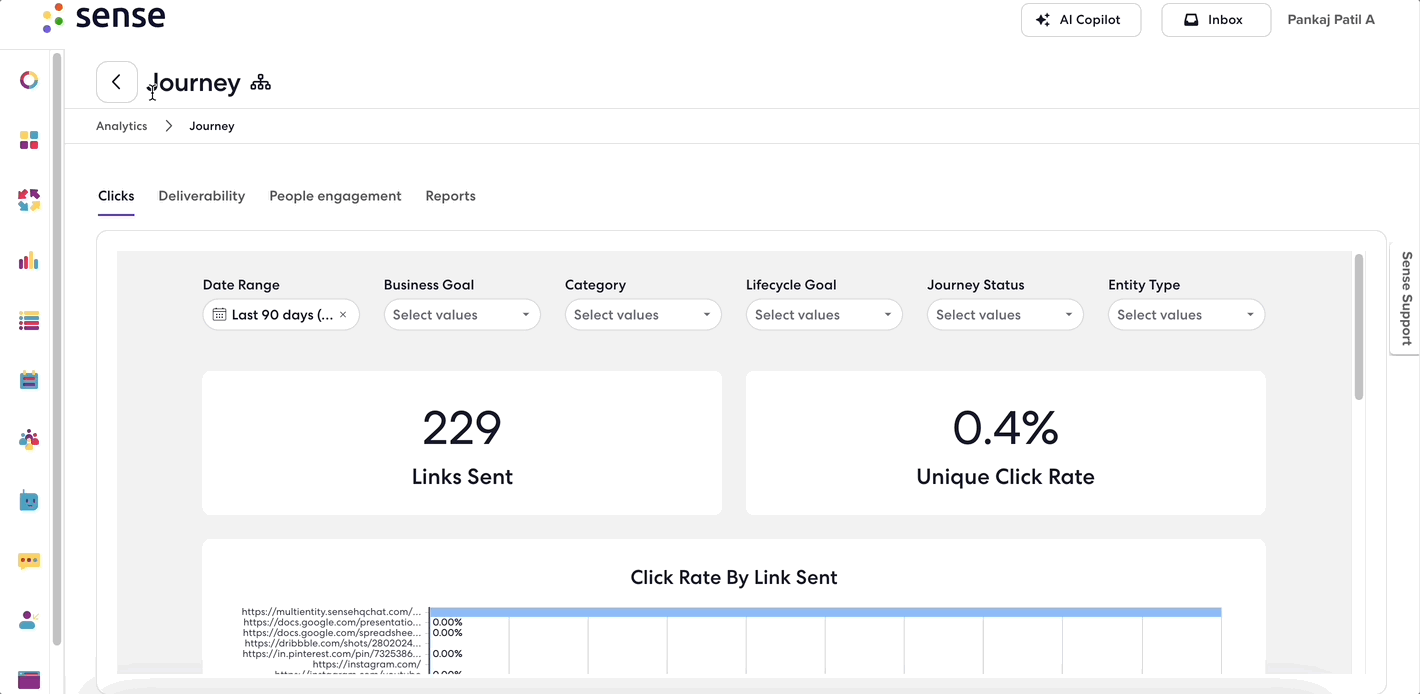 ---
★ Key Benefits
Journey Analytics is your comprehensive solution for monitoring and optimizing your Journeys and Touchpoints. With a consolidated dashboard, performance metrics, and detailed reports, you have the tools needed to make data-driven decisions, improve user engagement, and achieve a higher return on investment.
Comprehensive Insights in One Place
Holistic View: Journey Analytics consolidates critical metrics related to your Journeys and Touchpoints in a single dashboard. No more navigating through multiple interfaces or spreadsheets – everything you need is at your fingertips.
Performance Monitoring
Clicks: Stay on top of link click performance with unique click rate and total links sent metrics.
Deliverability: Assess the effectiveness of your touchpoints by monitoring sent, delivered, opened, and clicked metrics.
People Engagement: Understand overall adoption and engagement with metrics like people reached, engaged, unsubscribed, and marked as spam.
Detailed Reports: Dive deeper into your data with comprehensive reports on delivery history, click tracking, and detailed engagement insights.
Data-Driven Decisions
Optimize Strategies: With access to real-time data, you can make informed decisions to enhance your marketing strategies, improve user engagement, and increase conversion rates.
Identify Trends: Discover patterns and trends in user behavior to fine-tune your outreach efforts and target your audience effectively.
Personalization: Tailor your communication based on user preferences and engagement history for a more personalized user experience.
---
★ What's Covered
The primary purpose of this article is to provide you with a comprehensive understanding of the various aspects of Journey Analytics. This article will help you gain a deeper understanding of Journey metrics, what these metrics represent, and how you can leverage them to enhance product performance and usage.
➥

Reference

: To gain a comprehensive understanding of the various aspects and new features of Analytics (BETA), please refer to the complete "How to Use the New Analytics (BETA)" help article.
Journey Analytics covers the following metrics. Please click on each metric to view and learn more about it:
Reports