A Journey consists of one or more events and a shared audience. It normally has a theme such as "onboarding". Once journeys are set up with targeting and scheduling, everything runs automatically, making it easy to engage consultants with no additional work!
Click on "Journeys" on the Dashboard.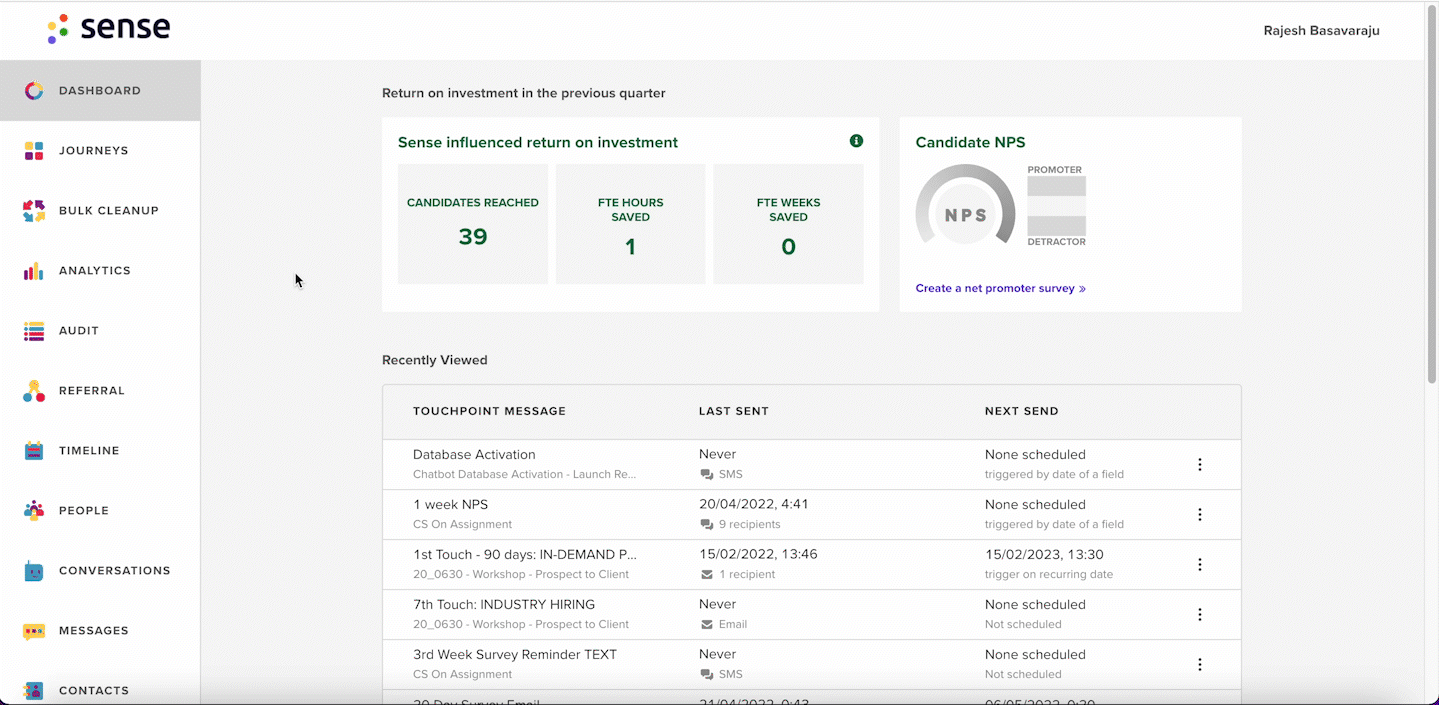 Journeys can be created in three different ways.
New Journey from Playbook : Can be created by existing templates from Playbook.

New Journey from Scratch : Can be created from the beginning.

Duplicate a Journey : Can be created by duplicating any existing Journeys from Dashboard.
Journeys contains mainly three parts.
Touchpoints

Audiences

Settings.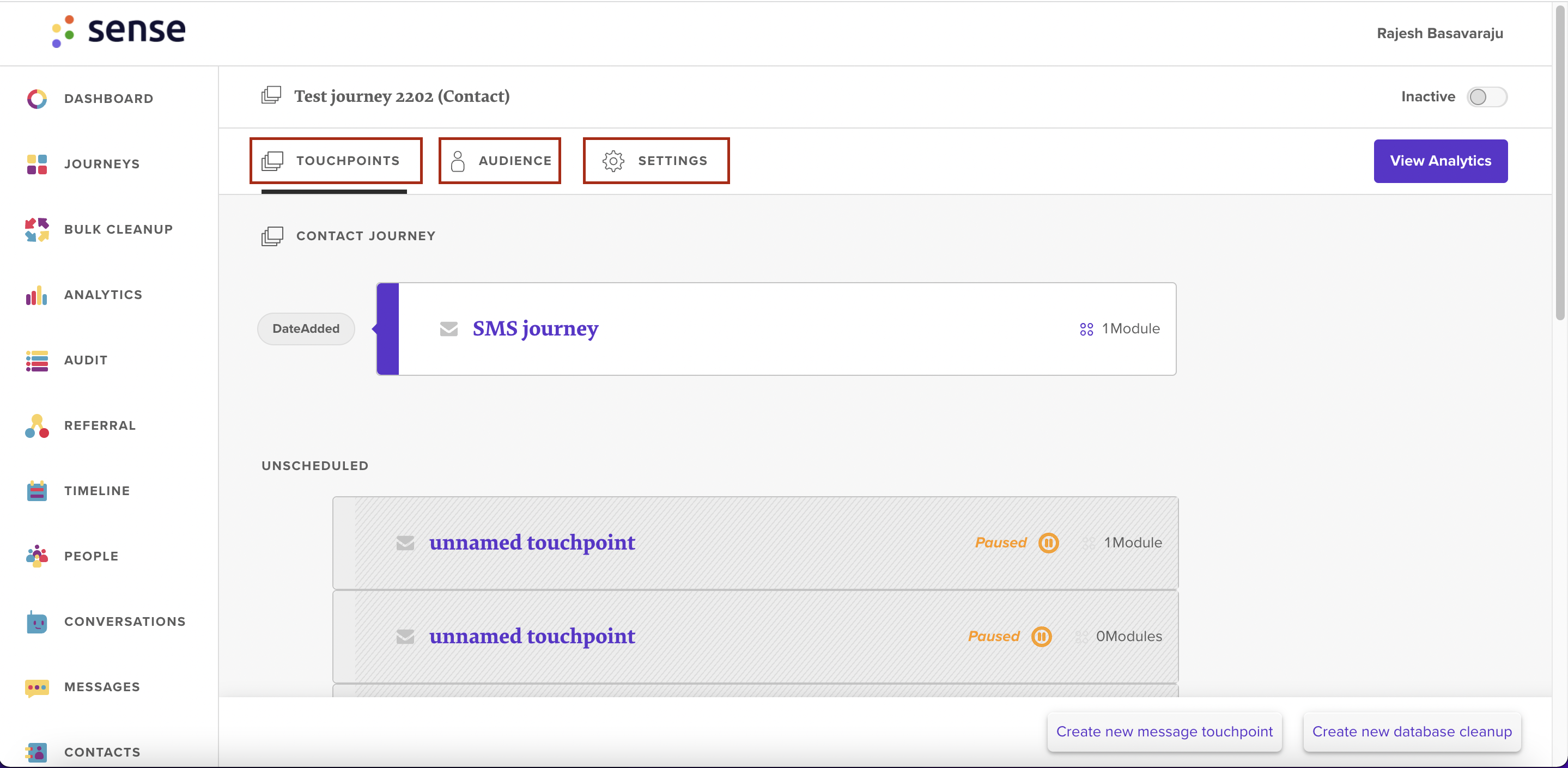 Touchpoints :
A Touchpoint is a single, outbound message or action. Touchpoints are generally scheduled relative to important dates in a consultant's life cycle, such as "start_date". These can be sent internally or externally in the form of SMS, E-mail or surveys.
After creating Journey, click on Create new message Touchpoint.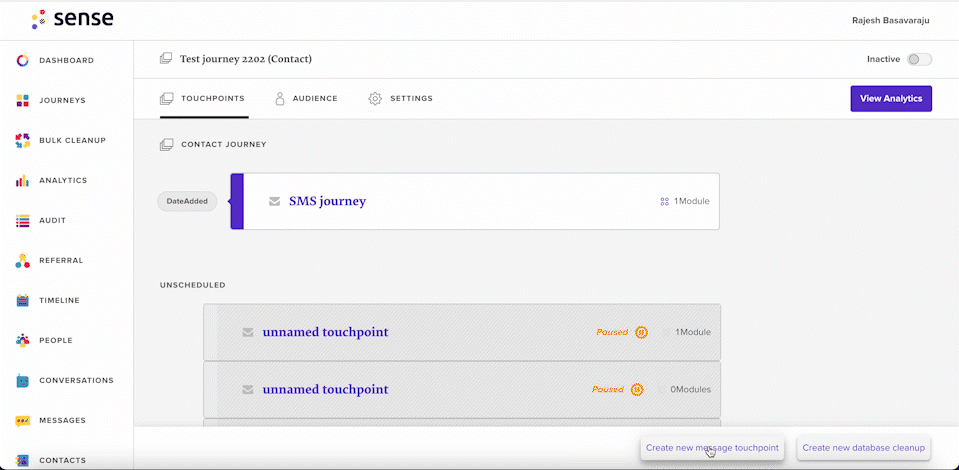 Further, each touchpoint contains Basics, content and scheduling.
Basics
Contains the Basic information of touchpoint like the type of content, owner of the content (Sender), heading of content (Touchpoint Title), whom this touchpoint is for (Send to) and Alert Emails.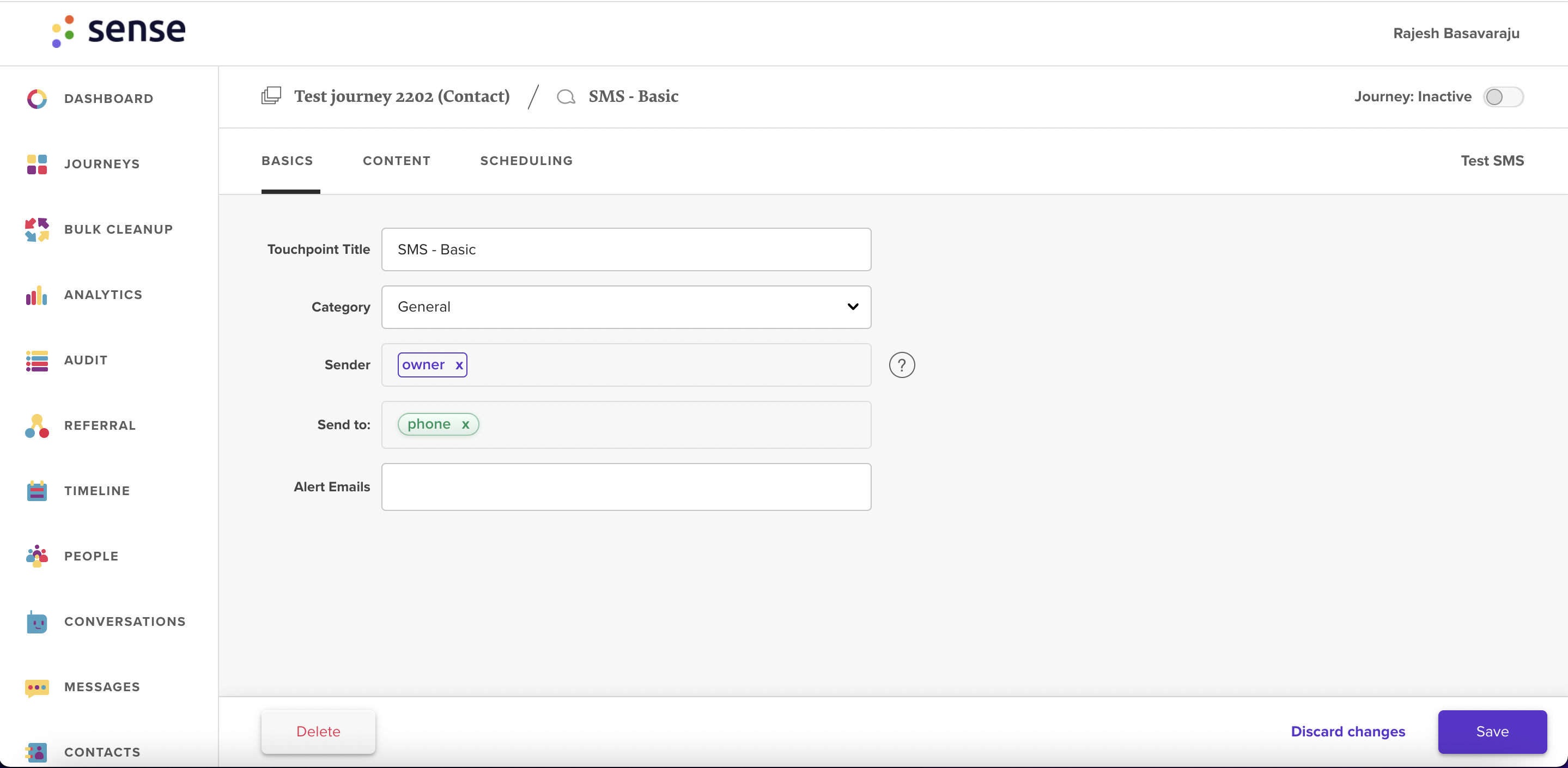 This information is different for SMS and Email Touchpoint.
For Email touchpoint, Basics information contains below details.It contains content type, Sender name, Sender Email, Email Subject, Send to, CC, BCC, Add attachments section, and Alert Emails.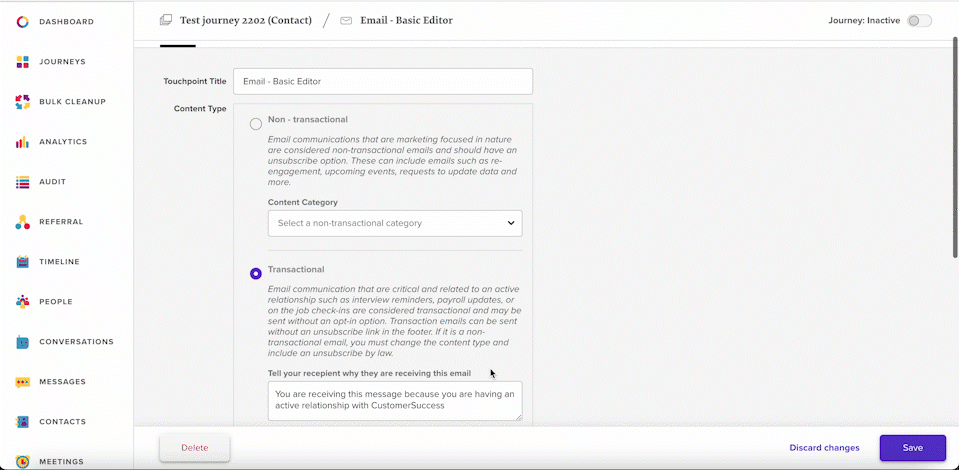 Content
Contains the actual message to be sent to the target audience. Type of content should be selected as a first step of creating a touchpoint. There are few types of content available. They are SMS/Email Basic,SMS/Email Survey, SMS/Email Recruiting chatbot & Duplicate touchpoint.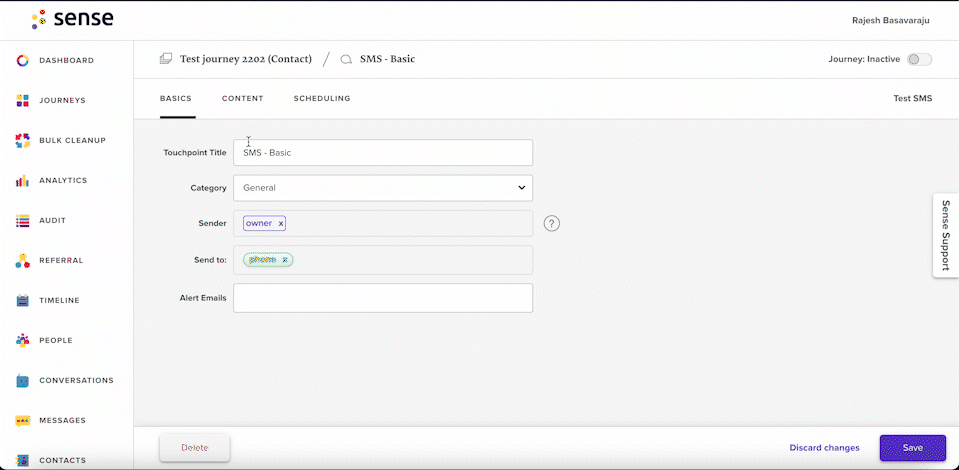 Scheduling
Contains the date and time message to be sent to the candidate. Here you can precisely set the date and time by using the options available.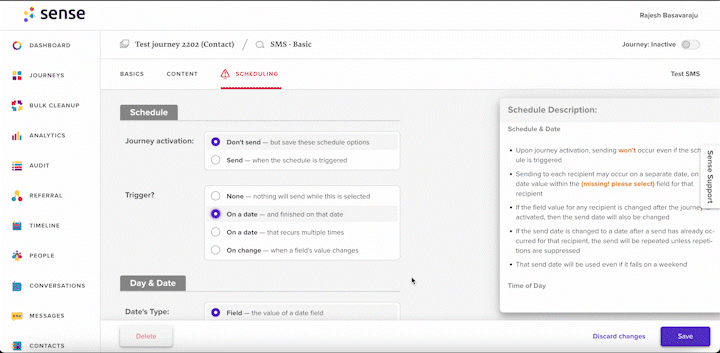 Refer to chapter Scheduling touchpoint for more details.
Audience :
An Audience is a group of consultants set to receive events from a certain journey. The audience can be everyone on Sense or a small group. Audience filtering is a powerful way to ensure that the right people get the right messages at the right time.
This also determines who is eligible to receive Touchpoints depending on the specific journey type that's created. Starting from the full list of available record types, you can add rules to narrow down to a specific subset.
Adding Audiences
Here you can add contacts to Journey to whom we intend to send the touchpoint message/E-mail to. You can add contacts using the following methods.
Edit audience.
Whenever contacts are added to your ATS database, this journey's audience will be automatically updated to include any new records that match these audience rules. Also, if any contacts are changed in your ATS database so that they no longer match these rules, they will be automatically removed from this audience.
You can include all the contacts from your ATS by clicking the check box.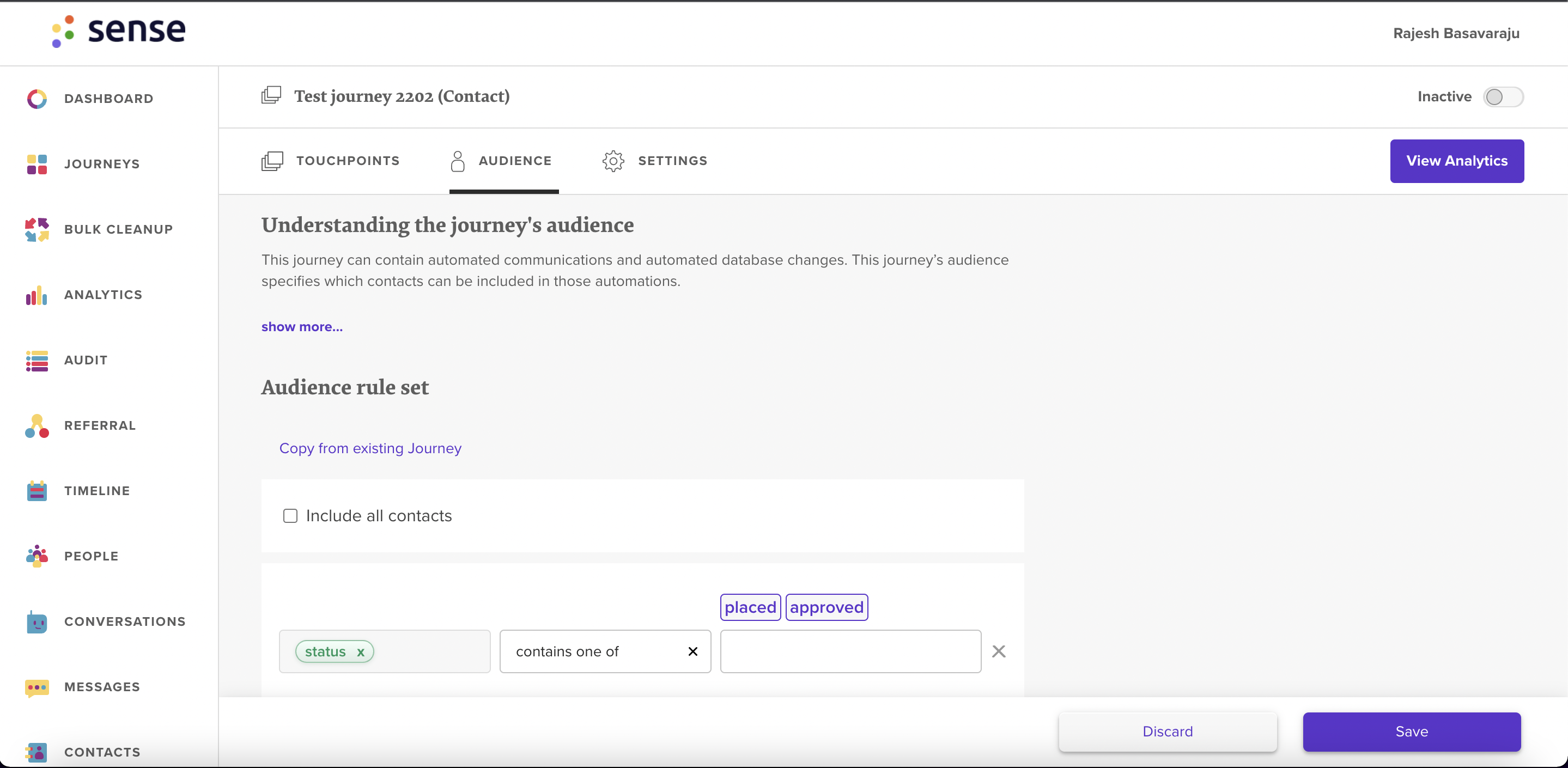 You can add contacts by adding rules as per your requirement for that process.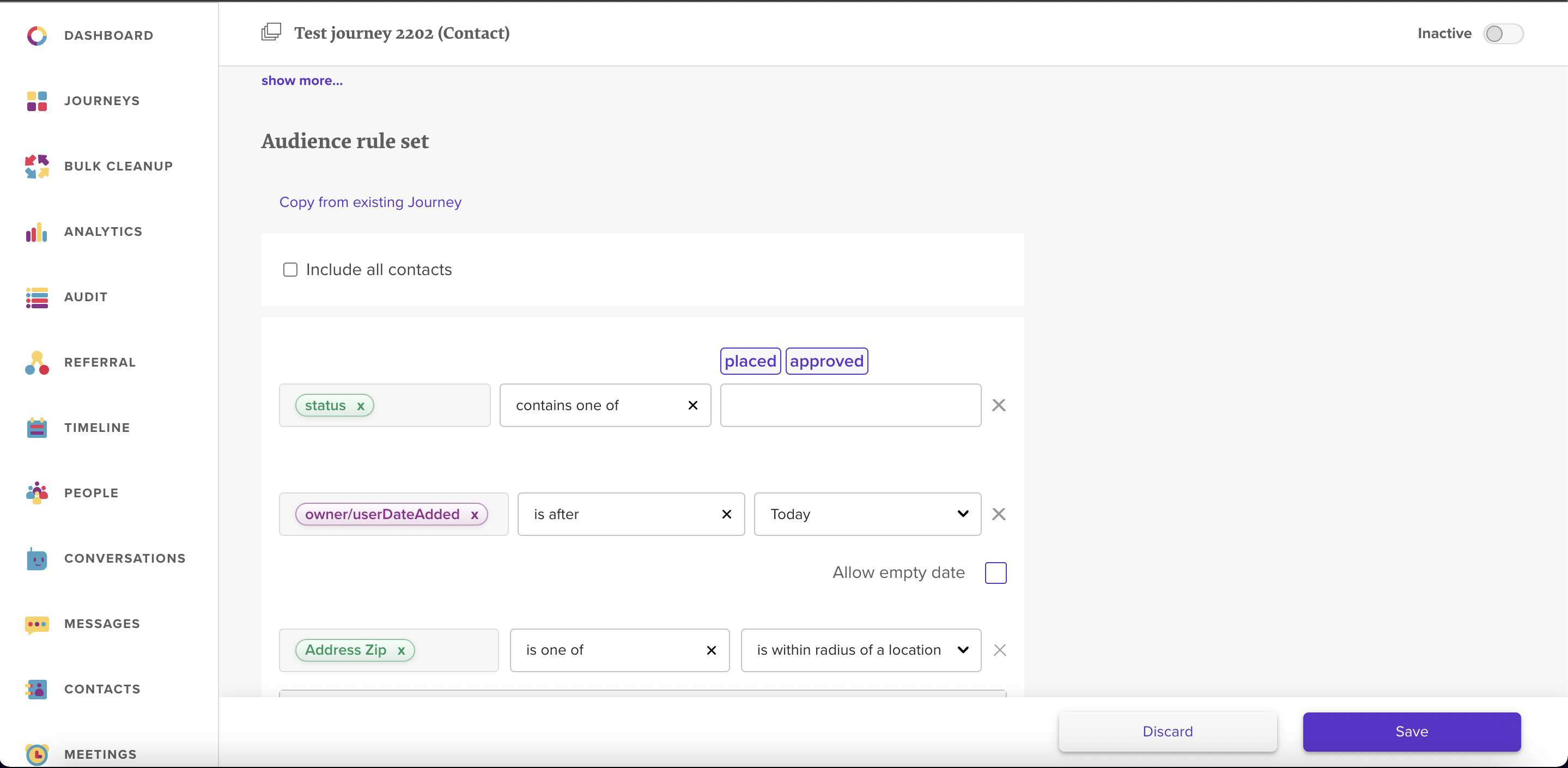 One of the rule has the advantage of selecting candidates within a radius of some ZIP code as below.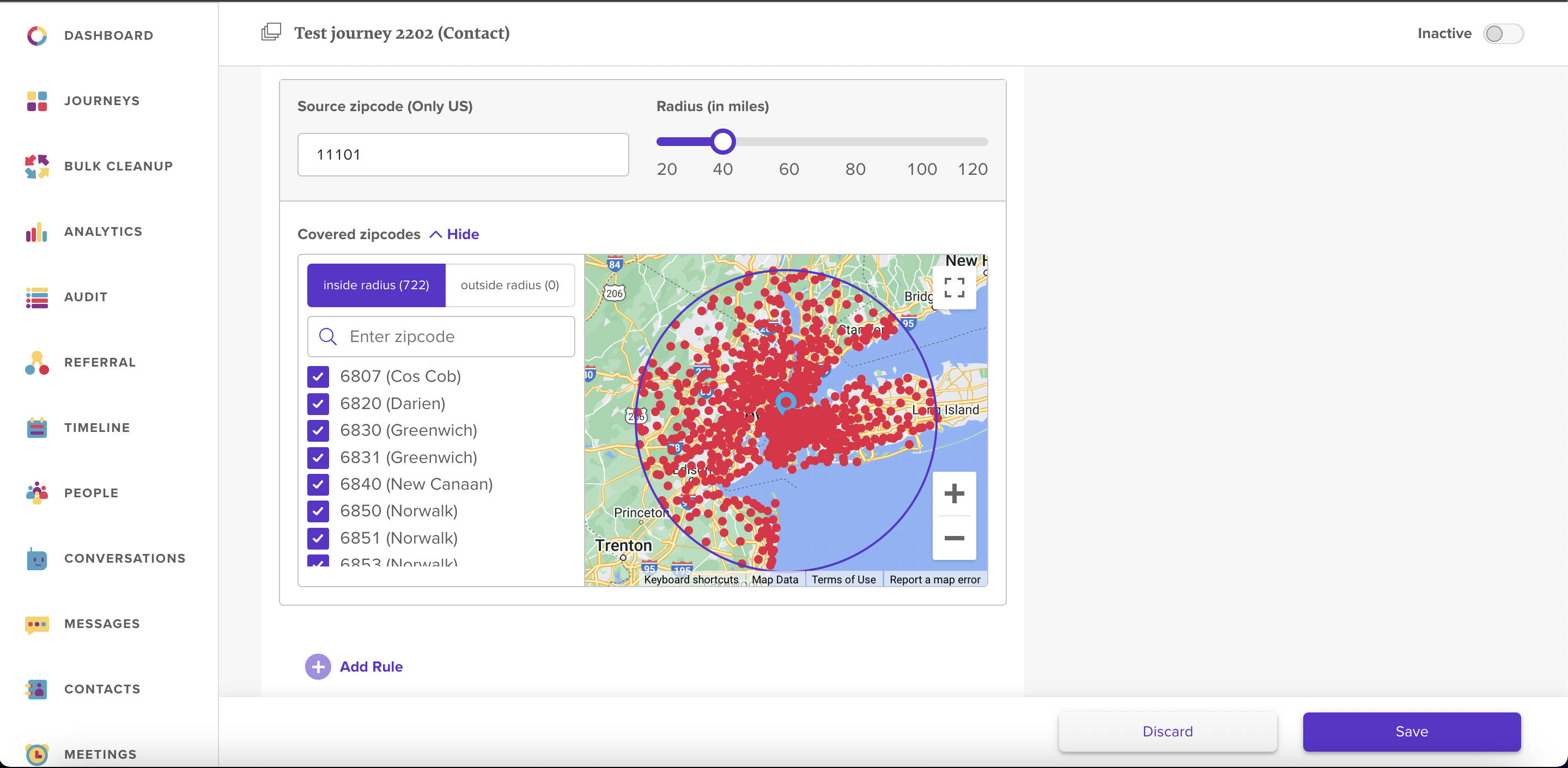 The option to import Bullhorn Tearsheets is available with our Click-to-Sync Tearsheets feature.
Copy from existing Journey
You can add contacts by copying from existing touchpoint's contact list.
Click on Copy from existing Journey.
Select reference Journey from the drop down option available.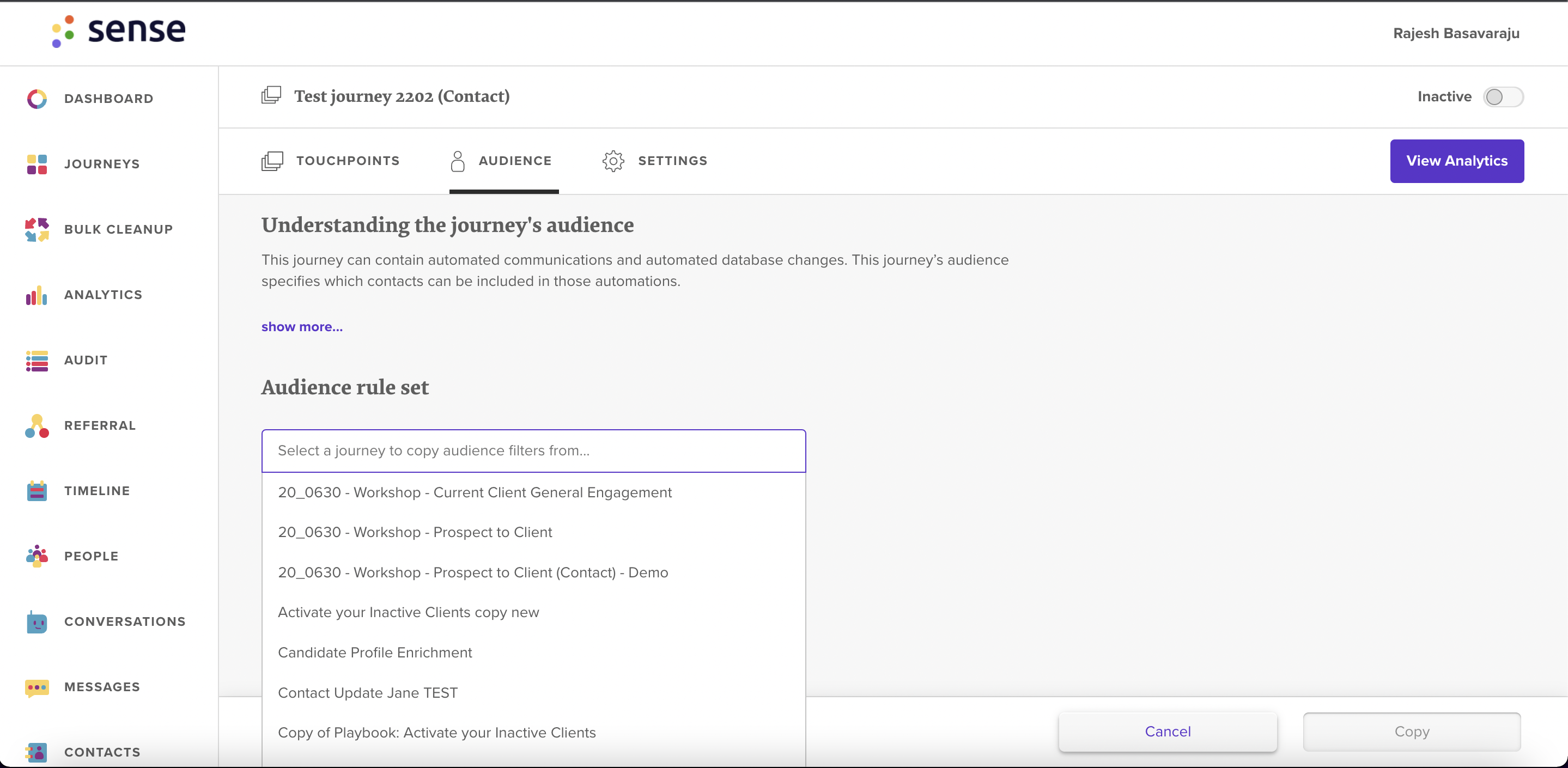 Export CSV
If your audience is under 10,000 records, you can click 'Export CSV' to download a CSV file of your journey's audience. The columns will be based on the variables being used in your Journey's Touchpoints.
Click on 'Export CSV'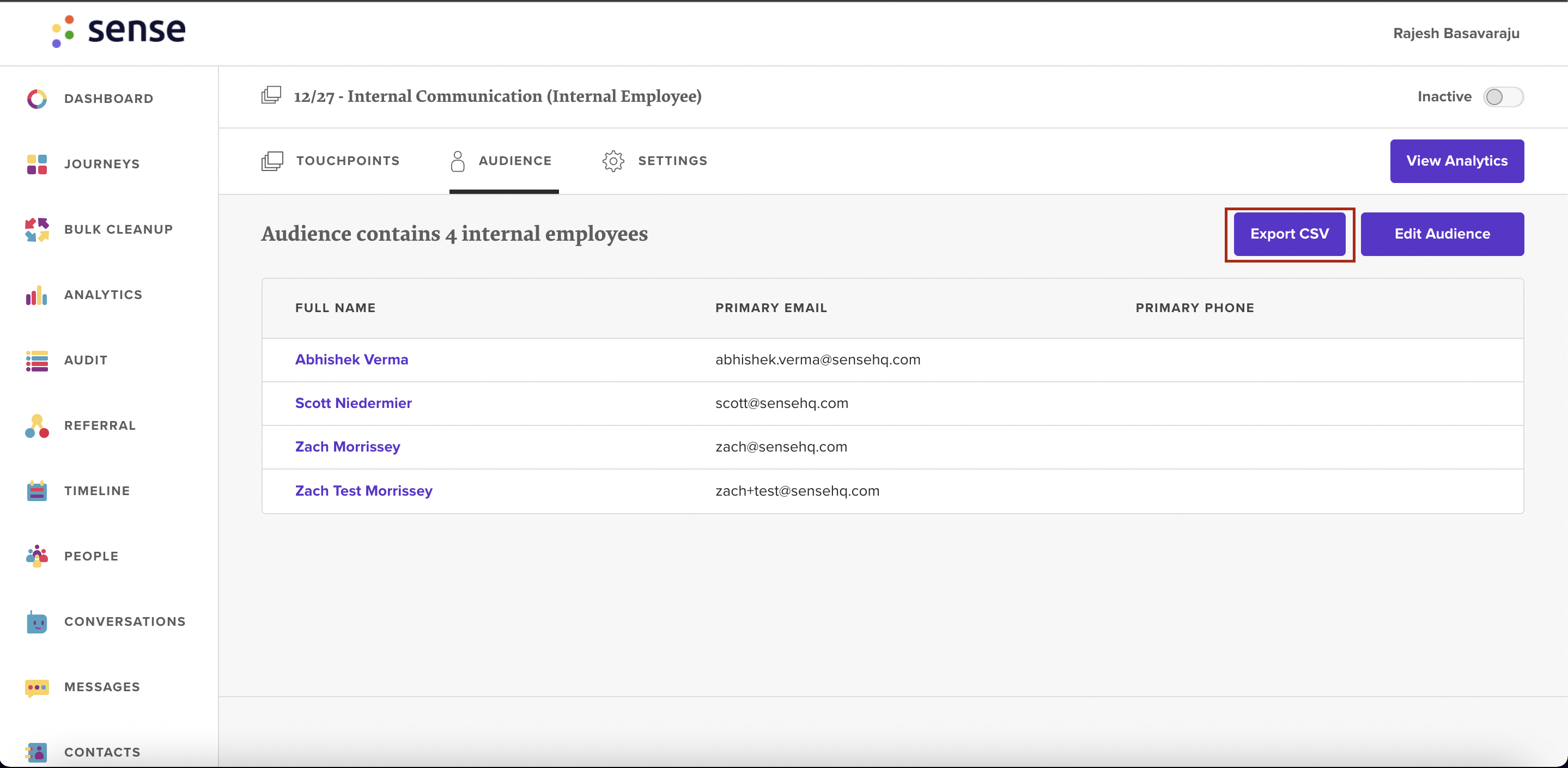 Click on 'Okay' on the 'Request Successful' window.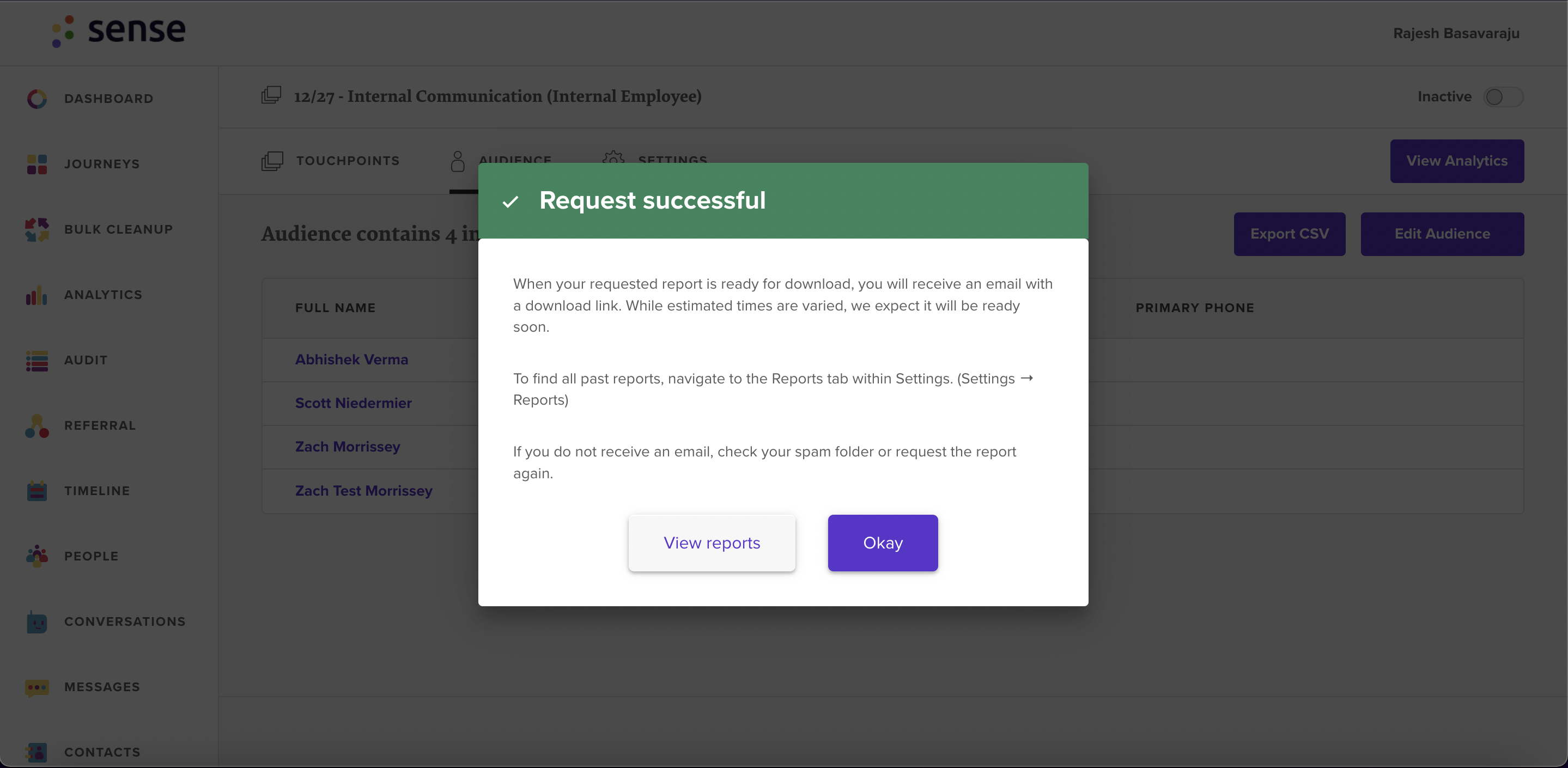 Once the report is ready, 'Report ready' window will open.Click on 'View reports'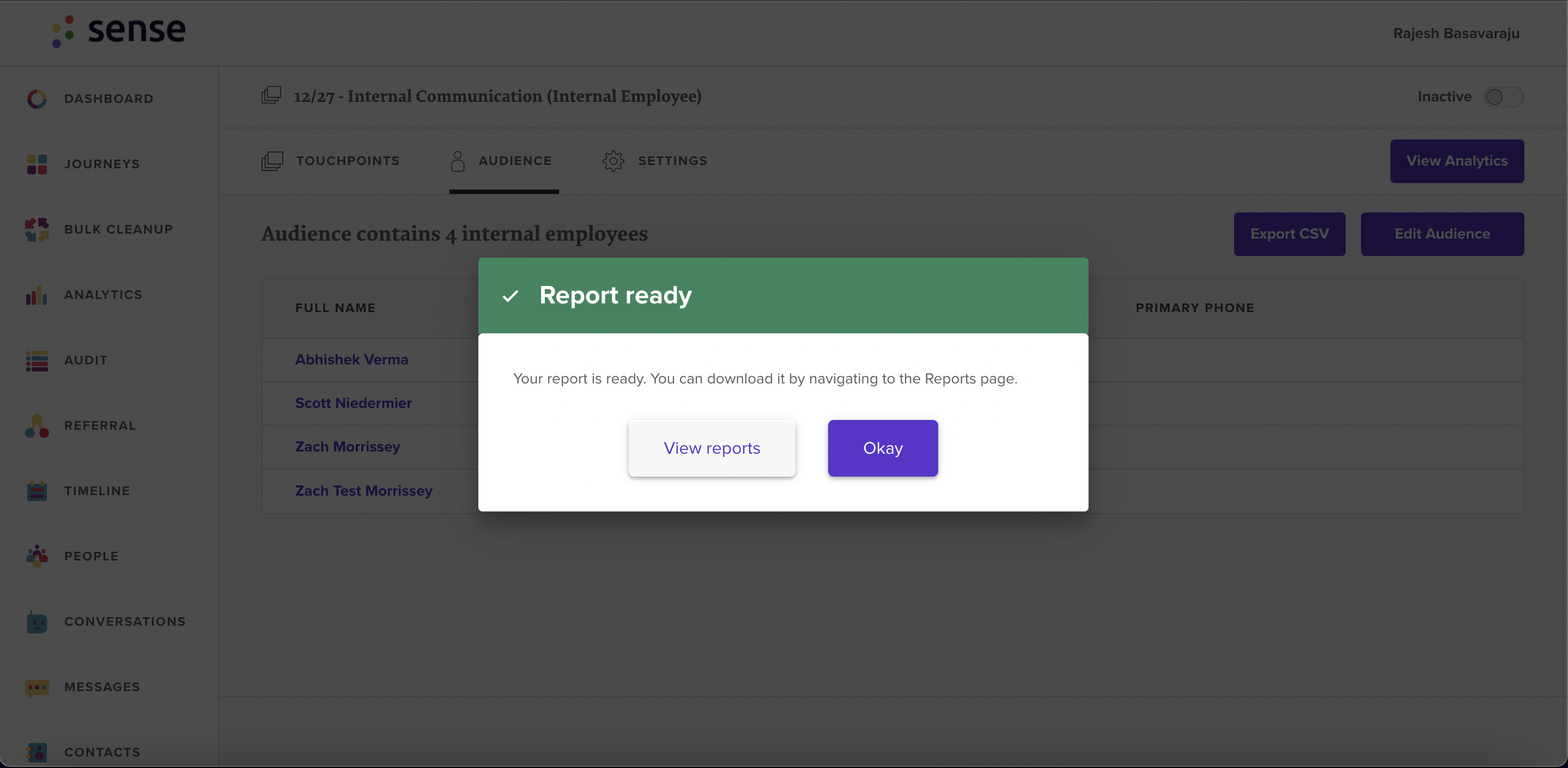 It will redirect you to Settings>Reports where you can download your CSV file of audiences.
Click on 'Download Report' which will download the report as a CSV file. The report list shows recently as first.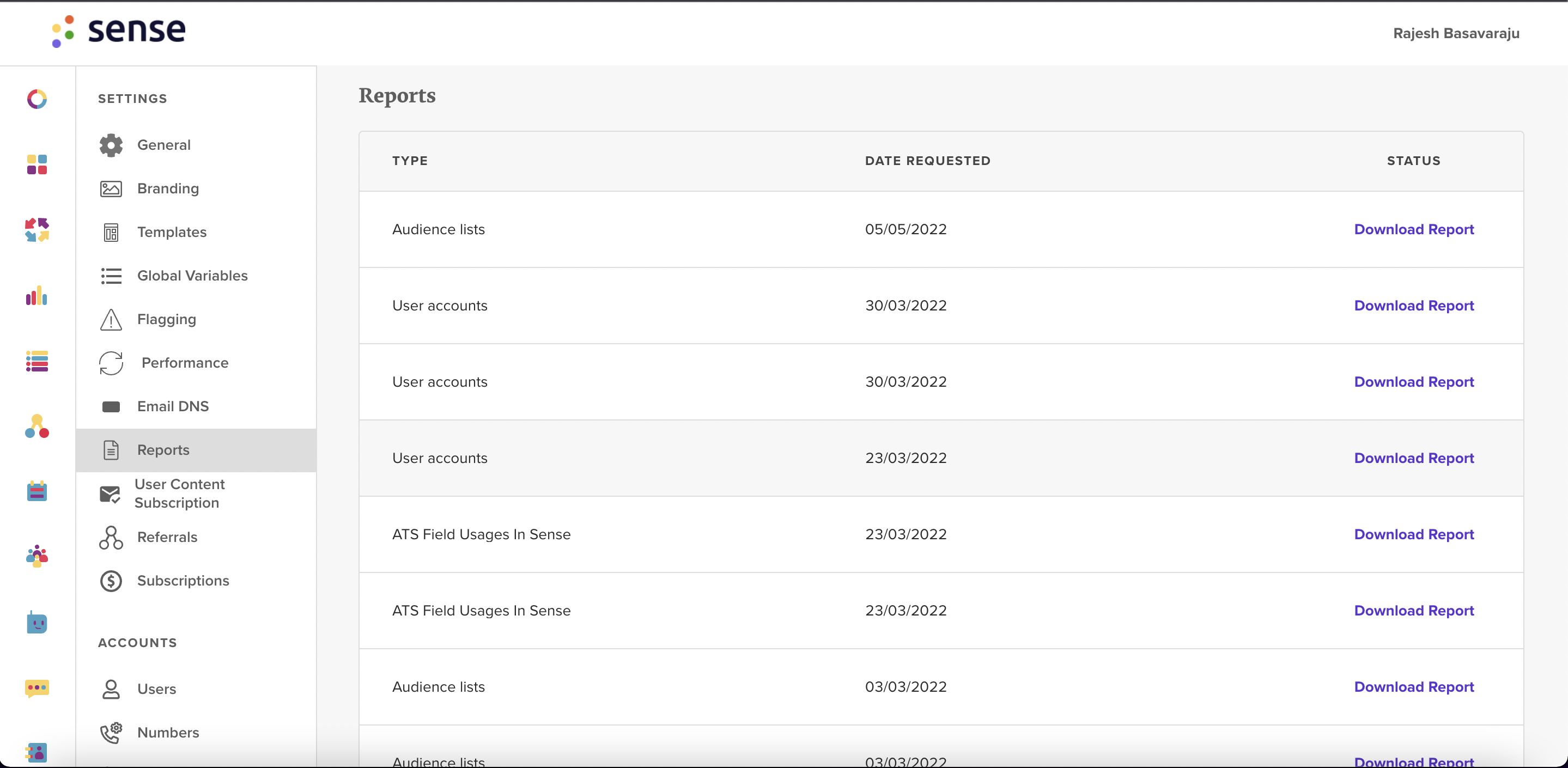 Viewing a Journey's Audience
Your audience will display based on the record type of your journey and you can navigate between pages to view the full audience.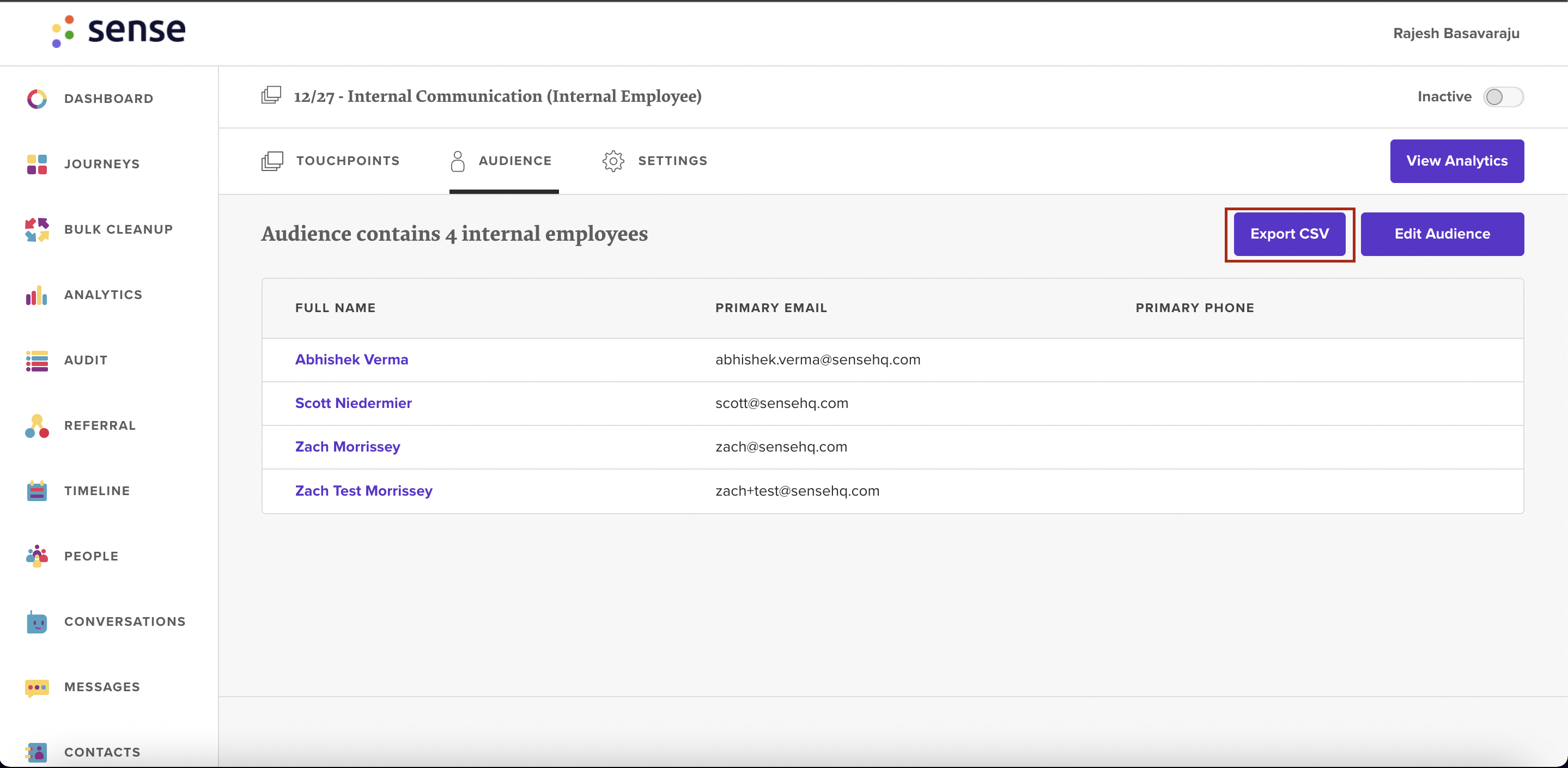 Journey Settings :
Using these settings you can
Set the name of Journey,
Set the business goal for Journey
Set from whom this Journey can be viewed by.
Set the Logo, the Favicon, and Survey/bot Share Image.